Taylor Rae brings country to Castle Pines
August 1, 2017
/
/
Comments Off

on Taylor Rae brings country to Castle Pines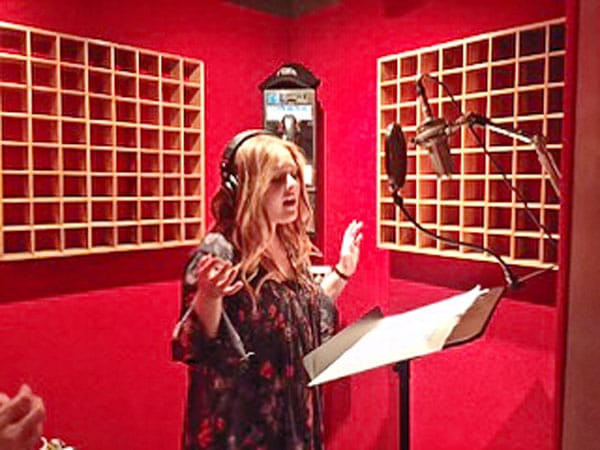 Castle Pines teenager Taylor Rae recorded seven new songs this spring in Nashville. She also made a music video for her single "13 Stripes and 50 Stars," — to check it out, visit: www.officialtaylorrae.com.

By Lisa Crockett; photos courtesy of Taylor Rae
Local musician Taylor Rae got her start in performing by singing the national anthem. She has opened games for the Nuggets, the Rockies, and several events at the University of Colorado singing the famous – and famously difficult – "Star-Spangled Banner." Now, at the ripe old age of 16, Rae has released a single called "13 Stripes and 50 Stars," a fitting song for someone who has built her career on patriotism.
"I think it is important to show pride in our country," said Taylor Rae. "Even though we have a lot of issues these days, this song captures what still makes this country great."
Taylor Rae made a music video to go along with the song, which features her in a classic Colorado landscape of red rock and mountains, decorating the graves of veterans. The song is also the first single from her extended play (EP) musical recording; both the video and the EP are firsts in her singing career. "13 Stripes and 50 Stars," written by Christy Sutherland and John Colgin, is getting airplay both nationally and locally (here in Colorado on FM 92.5, "The Wolf").
In total, the album features seven songs, two of which were written by Taylor Rae. She recorded the album in Nashville during her spring break from Valor Christian High School in Highlands Ranch. The album was recorded in two studios – Dark Horse and The Grip, the recording home of Rascal Flatts. But Taylor Rae's bona fides for this album do not stop with location."The team I worked with on this project was what I call the impossible dream team," Taylor Rae said.
The album features the music of drummers Steve Brewster (Dierks Bentley, Faith Hill) and Aussie Jared Kneale (Hunter Hayes), Scotty Sanders (Oak Ridge Boys, Sam Hunt) on steel guitar, Jay DeMarcus (Rascal Flatts) on bass and keys, Brennan Smiley (Technicolors) on guitar and vocals, and Blair Masters (Garth Brooks, Stephen Curtis Chapman) on keys – to name a few.
"It was amazing to work with these musicians," said Taylor Rae. "They were serious about the project, and they treated me like a professional."
The release of the single has made for a busy summer for the high school sophomore. Taylor Rae has performed throughout the state since the release, and she will head to Shreveport, Louisiana later this month to perform at a military appreciation event honoring retired Lieutenant Colonel Oliver North. Once the summer hubbub dies down, Rae will go back to her normal routine of juggling her school work with writing songs, singing, recording and playing the guitar as part of Valor's arts program.