The beauty of nature captured in landscapes and water scenes
February 1, 2014
/
/
Comments Off

on The beauty of nature captured in landscapes and water scenes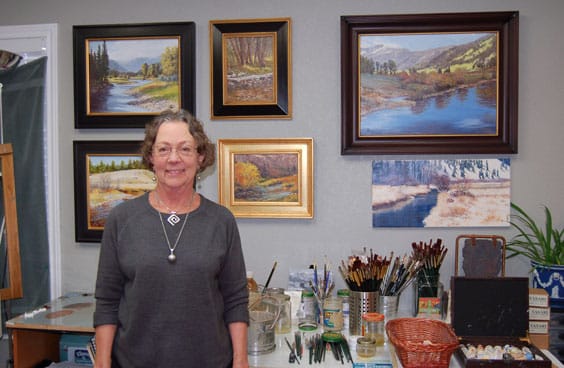 Ginger Whellock is pictured here in front of several of her gorgeous paintings. Whellock paints every day and constantly strives to improve her work. A plaque above her desk in her studio provides inspiration with a quote from Winston Churchill. "The way to achieve happiness is to try for perfection that is impossible to achieve, and spend the rest of your life trying to achieve it."
Article and photo by Amy Shanahan
Artist Ginger Whellock is busier than ever. Whellock, a twenty-year resident of Castle Pines Village currently has her work in two galleries, she runs an ongoing workshop for painters to gather twice a month at her home, and she offers classes for interested painters. Whellock is full of energy and is obviously passionate about her love for art and for the world around her.
Whellock considers herself to be a traditional, representational painter meaning that her work is reflective of scenes that are recognizable and her colors and depictions are true to life. Through the use of color values, visible and active brush strokes, and her own emotions and memories, Whellock captures the beauty of nature and puts it to canvas. Her water scenes are breathtaking and allow the viewer to feel as though the water is actually moving. Her landscapes are serene and inviting.
Whellock has been an artist her entire life and has explored various mediums over the years including pen and ink, watercolor, pastels and oil paints. In 1990, with the blessing of her husband John, Whellock began painting full time, which she calls "the greatest gift I ever received!" Today Whellock only paints in oil, which produces rich and vibrant landscapes and scenic paintings.
Whellock enjoys participating in art shows across the United States, but her real love lies in sharing her gift and knowledge with others. On the second and fourth Tuesday of each month, Whellock opens her home to anyone who would like to come and paint with her. On any given day, five to ten painters with a variety of experience come by and spend the day supporting and learning from each other.
Whellock also periodically offers classes in specific subjects or techniques for intermediate artists. This gift of her time is what she refers to as her pay it forward. "I love to teach and to share what I know," remarked Whellock. "I don't want to keep it in a closet!"
Whellock's art is displayed throughout her home and is available for sale. Whellock encourages anyone interested in seeing her work or in joining her mailing list to contact her at her home studio at 303-660-1458. Workshops in painting Alla Prima will be held on February 18 and 19. To view her work, visit www.GingerWhellock.com.