The Bibliophiliac's Corner – "Himself"
May 1, 2017
/
/
Comments Off

on The Bibliophiliac's Corner – "Himself"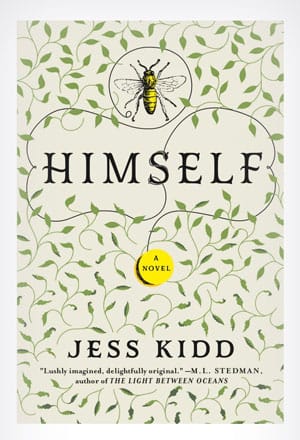 By Amanda Merriman
Connection writer Amanda Merriman admits she is hopelessly addicted to books. It has been this way nearly all her life. Every month she shares what she has been reading with the hope that others will share in the obsession too.
This month's Bibliophiliac's selection, "Himself", is a debut novel from author Jess Kidd. Kidd drew me into a fantastical Irish world set in the fictional small town of Mulderrig. This novel had me from hello as it introduced me to Mulderrig with the following: "People are born to live and stay and die here. They don't want to go. Why would they when all the roads that lead to Mulderrig are downhill so that leaving is uphill all the way?" Gems like these can be found throughout the book and kept making me chuckle as I read through this mysterious tale interwoven with the supernatural.
The main character of the story is a devastatingly handsome but scraggly hippie named Mahony who I could not help but imagine as a scruffy Colin Farrell. Mahony was orphaned as a baby and believes this was the result of foul play. He seeks truth and revenge for his beloved mother when he returns to his hometown of Mulderrig. Mulderrig is chock full of interesting characters you can sink your reading teeth into. The town's residents are not exactly thrilled to have Mahony around, and things get interesting when they start to figure out who he is. Oh, and also, Mahony has a certain skill. He can see dead people whether he wants to or not.
Himself reads like a darkly wonderful version of the movie "Waking Ned Devine." I might be biased because I have a love for all things Irish, but I believe readers of all kinds will enjoy this book.
Fellow bibliophiles and book club members, feel free to join in the dialogue. Blog your thoughts and feedback at www.castlepinesconnection.com and enter the keyword "bibliophiliac" in the search bar. Have you read a great book recently? Email your find to me at amerriman@castlepinesconnection.com.