The Sandstone Ranch: a quilted masterpiece
November 1, 2020
/
/
Comments Off

on The Sandstone Ranch: a quilted masterpiece
By Joe Gschwendtner; courtesy photos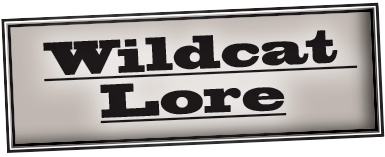 Near West Plum Creek's headwaters, Sandstone Ranch's story is rich and colorful, a stitched-together history of many pioneers.
The earliest was Charles Richardson, an 1873 homesteader who claimed the first parcel. A year later, a bold woman for the times, Elizabeth Robinson of West Point, Illinois, homesteaded and became his northern neighbor. She brought 8-year-old son, George, with her. Educated in the Glen Grove one-room schoolhouse on Plum Creek, George later bought more land, quarried sandstone for Denver buildings and raised cattle there until his death in 1946.
Early to the same area was Ahimaaz Gove. Homesteading in the same year as Richardson, Ahimaaz and son Asa were the largest landholders of today's Sandstone Ranch. Faced with the vagaries of dry land farming, Gove built a series of canals to bring Plum Creek's precious waters to his ranch.
Asa married neighbor George Dakan's daughter, Nona. Newspaper accounts in January 1895 indicate the marriage didn't work out well. Undeterred by love lost, Asa found other interests, tinkering with better ways to produce his crops. By 1903, he had a patent which represented an improvement to the mechanical binding process of cutting and tying corn stalks into bundles.
Earl Tucker of Oxford, Ohio was born in 1886. Another restless soul, Earl had seen much of the West, having been raised in Oklahoma's Indian Territory. Leaving Oklahoma behind him at 18 and working intermittently as a carpenter and ranch hand, he migrated to Montana, Wyoming and then to Douglas County where he first worked for Ben Quick. (To learn more about the Quick family history read the Wildcat Lore article featured in the April 2020 issue of The Connection.) While there in 1913, he married Elsie Palm, the daughter of a small Larkspur rancher east of Ben Quick's place. Not long after, he was hired on by the Robinson Ranch.
Despite being a manager and not initially the owner, Earl's prowess, loyalties to Robinson and county influence grew. So much so that he was drawn into the public arena, representing livestock and cattlemen associations for five decades. His specialty – high-grade commercial cattle with registered bulls. It appears he purchased some of the Robinson Ranch while working it, gaining the rest when George Robinson passed away and bequeathed the remaining acreage to him. Earl carried on until his death in 1957. Daughter Jean Tucker Allen would operate the ranch corporately as the Gove Canyon Cattle Company until 1989.
Tucker's granddaughter, Patsy Allen Davis, brought the bloodline to higher visibility as a trick rodeo rider. In the mid-'50s, she performed daredevil stunts like one-foot stands, the "Hippodrome" and the "Cossack Drag" on a moving horse. Regularly summering at the ranch, cowgirling was likely in her blood. Her husband, Gerald, was a top calf roper and bulldogger. Gene Autry, the "singing cowboy," was among family acquaintances.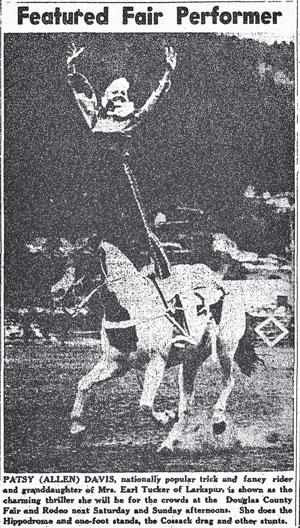 Frank Fazzio, mechanical engineer and New Yorker by birth, acquired Sandstone in 1989. As he improved the ranch further, cancer stalked, taking his life in 1999. It was kept in operation until 2005 when purchased by developer AR Sandstone, LLC. Corporate plans were to develop the ranch into a high-end community and equestrian center. The 2008 financial downturn ended those plans, which became Douglas County's acquisition opportunity in 2017.
To read more about the new historic Sandstone Ranch Open Space see the articles on page 2 and page 23.