Then and Now…Ken Hamblin: Man still on a mission
February 1, 2019
/
/
Comments Off

on Then and Now…Ken Hamblin: Man still on a mission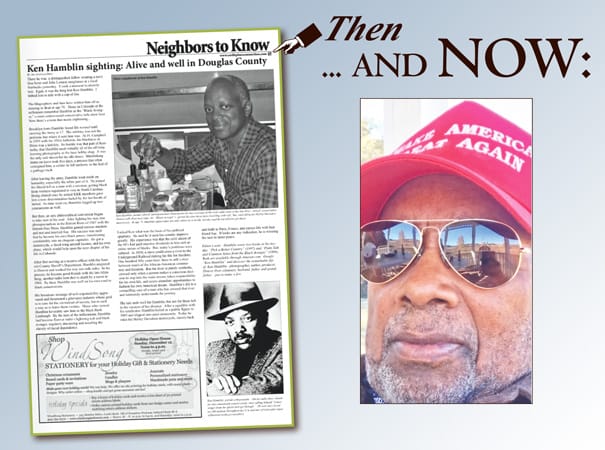 Article and photo by Joe Gschwendtner
Back in 2010, I stumbled onto Ken Hamblin, iconic former Denver radio personality, lightning rod and self-styled "Black Avenger" – at MiYO Cafe, of course. Seems like he is still living large and for those who know him, with panache.
For starters, he looked as if he had not surrendered a day in age and, wearing tweeds, like he just stepped off the page of a J. Peterman catalog. Moreover, he was still full of himself, always the renegade. The real secret: successful back surgery 30 months ago. He is now without pain since who knows when…. Vintage Hamblin, he sent a note to Dr. Finn's mother, thanking her profusely for sending her son to medical school.
Still flying, riding his motorcycle and tripping to Paris now and then with wife Sue, his fervor for truth in journalism and life itself overrides all else. A lifelong learner and literary zealot, he absorbs as much as he can from audible libraries and passes the good stuff on – as in through his website proncon.info. There, Hamblin has resumed an ongoing battle with the Leviathan and its ally, the media. For those inclined to make camp with Hamblin, his vignettes are short in duration but long on logic.
Apolitically, who can disagree with his thinking about truth? Consider this: an anvil falling on your foot will, without a doubt, be painful. Cause and effect are linked, the reality unchallengeable. If you feel that you are being inundated daily with screen propaganda and in need of a sanity test, sign on with Ken via his website. Should you make the time, I can promise quite the ride.