Top Chef competition at Buffalo Ridge
December 1, 2013
/
/
Comments Off

on Top Chef competition at Buffalo Ridge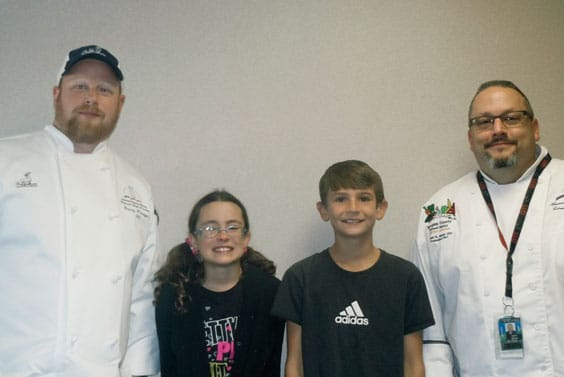 Averie and Devin celebrate with celebrity judges, Chef Danny (left) and Chef Jason (right) after winning Top Chef awards.
Article and photo by Hadley B., BRE Ridgeline staff reporter
On October 31, Buffalo Ridge Elementary School (BRE) fifth graders had more to get excited about than Halloween. They had the opportunity to become master chefs while learning all about science at a Top Chef competition.
During the Top Chef competition, the fifth graders were asked to create an original recipe as part of a mixtures and solutions unit. Some of the recipes included an Oreo shake, s'more pizza, and triple fudge brownies – yum!
The fifth graders had to impress local celebrity chefs Chef Jason of Douglas County School District and Chef Danny from Sanctuary. On the competition day, the chefs arrived at school dressed in bright white chef coats and took their place at the judges table. The kids were nervous but excited. One by one the fifth graders brought up their food to be tasted and critiqued.
After tasting the many foods, the judges chose a winner from each class. The winner from Mrs. Pinke's class was Averie P. and the winner from Mrs. Streich's class was Devin I. Avarie won because she used the chefs' favorite ingredient, pancetta, in her Four Cheese Angel Hair Pasta, which also included red pepper flakes, gorgonzola, mozzarella, provolone, flour, cream and oil. Devin impressed the judges with his Rotisserie Chicken Noodle Soup that was full of oregano, basil, onions, carrots and bacon bits. One thing that Chef Jason said was, "I think that this food is amazing – thank you for inviting me!"
When asked if students thought that teachers should continue doing this Top Chef unit, thoughts were mixed. Blake H. said, "no, I think this fifth grade should be remembered for it." On the other hand, Riley I. said, "definitely, because it teaches kids in a fun way how to do mixtures and solutions."
One thing is for sure – this was an exciting way for fifth graders to learn about science!