Transportation discounts for seniors
June 1, 2017
/
/
Comments Off

on Transportation discounts for seniors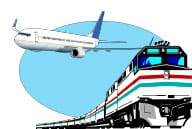 By Patte Smith
If you are planning on traveling, a few airlines offer senior discounts for individual age 65 and older. United Airlines offers senior fares to selected travel destinations; visit www.united.com. Southwest offers senior fares for both domestic and international; visit www.southwest.com. The other airlines that fly out of Denver International Airport offer discounted fares to seniors on a limited basis, so when making a reservation ask if senior discounts are offered to your destination. Check regular ticket rates and other special offers, as they may be even lower in cost than the senior discount.
Amtrak passengers 62 years of age and older are eligible to receive a 15 percent discount on the lowest available rail fare on most Amtrak trains. On cross-border services operated jointly by Amtrak and VIA Rail Canada, a 10 percent senior discount is available to travelers aged 60 and older.
Cruises are a little tricky when searching for senior discounts on the internet. Most cruise line websites or "multi-site cruise experts" lure customers with discounts to get passengers on board with low ticket fares, only to have additional unadvertised fees added later.
The best way to get a senior discount is to ask.