TTE artists shine at the Annual District Art Show
May 1, 2017
/
/
Comments Off

on TTE artists shine at the Annual District Art Show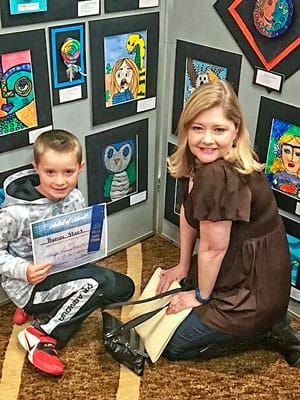 First grader Thomas Shank used his oil pastel skills to create his shaded owl piece. Thomas is pictured with his art teacher, Wendy Wilson, who was also on the planning committee.


By Lynne Marsala Basche; photos courtesy of Wendy Wilson
This year's Annual District Art Show, held March 31 through April 3 at the Highlands Ranch Hilton Garden Inn, hosted 27 Timber Trail Elementary (TTE) artists with 29 pieces of art. The event was open to all Douglas County School District (DCSD) schools to participate.
TTE art teacher Wendy Wilson selected pieces for the event by first choosing work that exemplified the project goals, and then other TTE teachers and staff helped choose the work for the show. Several different media represented TTE, including stone carved animals, clay bowls, crayon resist paintings and drawings of many different subject matter ranging from self-portraits to op-art.
"The DCSD Art Show provides students with an authentic audience for their artwork," said Wilson. "It was an honor to have such talented artists represent our show this year."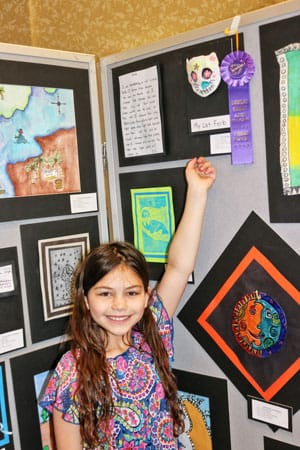 Ellie Sloan, who is in third grade, chose to remember her cat Ferb by creating a sugar skull in his honor for the Dia de los Muertos unit. Ellie's artwork won third place for Primary 3-D.

Three TTE artists received prizes. Fifth grader Gavin Neira won first place for intermediate (grades four through six) 3-D for his stone carving of an elephant, third grade student Ellie Sloan won third place for primary (kindergarten through third grade) 3-D, and Bryn Petersen won first place for intermediate 2-D.
"This was my first art show, and I almost didn't enter my sugar skull," said Castle Pines resident Sloan. "I wanted to take it home, but Ms. Wilson talked me into letting her put it in the show. It ended up winning third place for 3D! I am so happy! My family still can't believe it! I had a blast making it, but I always do in her class. Thanks, Ms. Wilson!"
This year, Wilson was on the committee that planned the event, and she now has a new appreciation for what it takes to put on a show this size. "It was a huge undertaking, but it is worth it for DCSD students to have the opportunity to showcase their work," said Wilson. "This show features work from all the DCSD schools that wish to participate. It is the biggest show of the school year and allows elementary artists to display right next to high school students, which gives the show an authenticity for our elementary students."