Village Castle Pines Garden Club presents savvy styles
June 1, 2019
/
/
Comments Off

on Village Castle Pines Garden Club presents savvy styles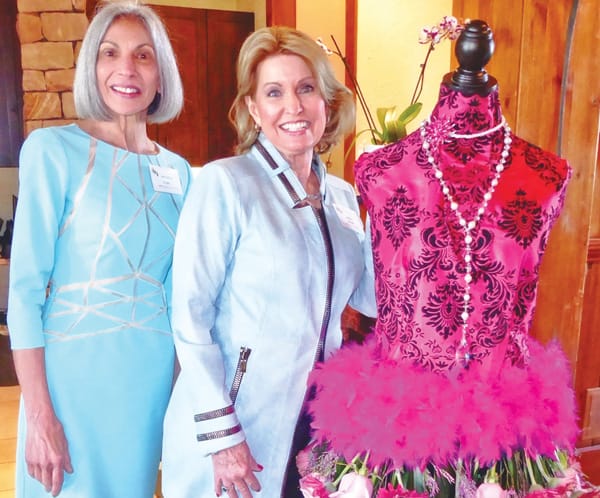 Village Castle Pines Garden Club luncheon and fashion show event chairs Michele Volkl (left) and Darcey DeRose (right) added extra pizazz to this year's event.

Article and photos by Nancy Koontz
One of the most anticipated social gatherings in Castle Pines is the Village Castle Pines Garden Club luncheon and fashion show, which was held on May 17 at The Country Club at Castle Pines. The event began at 10 a.m. with socializing and drinks, and the fashion show at 11 a.m., showcasing beautiful clothes from Parker Panache Boutique, all modeled by garden club members. The lunch began at noon with a choice of entrées: Artichoke and Parmesan stuffed chicken breast, tarragon and orange brined salmon, or marinated portobello mushrooms… all delicious!
With a current membership of more than 150, the club's once-a-month educational programs and events offer members a wide range of subjects and opportunities to socialize and make new friends. You don't even have to garden!
Founded in 1994, in addition to the two official gardens they maintain, the club's Charity Outreach Committee also supports the Crisis Center and also the Help & Hope Center run by the Douglas/Elbert Task Force.
If you are interested in becoming a member of the Village Castle Pines Garden Club, contact President Janice Wright at jteplyw@gmail.com or complete the membership form on their website at www.cpvgc.org.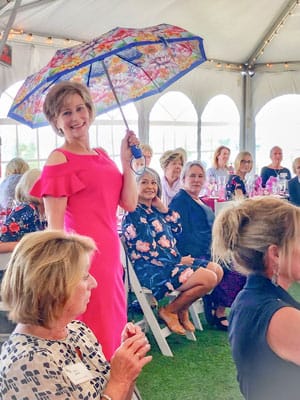 Garden Club member and model, Liane Mair wore a stunning hot pink dress with a matching parasol, which can be useful with our always changing Colorado weather.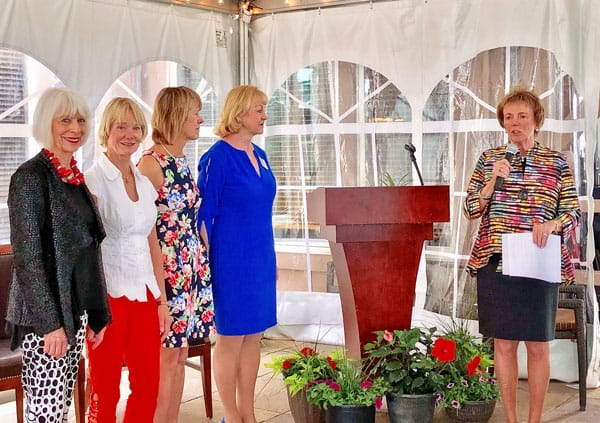 Village Castle Pines Garden Club members (left to right): Grace Gehrig, Terri Sundermann, Vice President Jane Niederbrach and President Janice Wright with Cheryl Porter on the microphone.