Village residents steamed; train whistle petition circulating
January 1, 2010
/
/
Comments Off

on Village residents steamed; train whistle petition circulating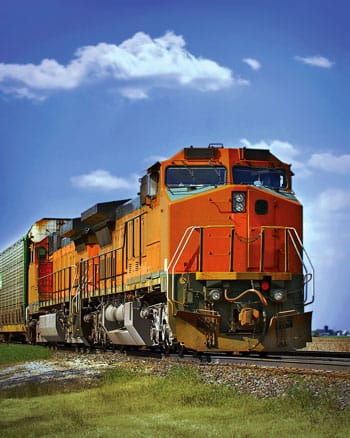 by Elizabeth Wood West
One Castle Pines Village petitioner is oblivious to it, having tuned it out completely, like you would a ticking clock: "I live in Castle Pointe, the nearest community to the trains. The train whistle noise is NOT an issue. One can barely hear the noise, even at night. The whistle is a safety feature required by law. Let us not waste our time on such a petition."
Another Village petitioner finds it wistful and nostalgic: "I would like to put in my two cents worth about the train whistle. I think this petition is ridiculous! I love hearing the train whistle. The trains were here way before we were. I for one will be very upset if it stops. Is there a petition to stop this petition?"
Still, many others in Castle Pines Village have had enough of it and are asking others to get on board. Recently, Village resident Don Somsky, along with other concerned Village residents, and the Castle Pines Homes Association (CPHA) Board of Directors started a petition for the purpose of addressing train whistle noise. Specifically, they hope to put a stop to train engines sounding their horns at eight private at-grade railroad crossings located from Castle Rock to Sedalia, and alongside Santa Fe Drive in Douglas County.
Northbound Union Pacific (UP) trains are the primary source of the whistle noise; however, Burlington Northern Santa Fe Railway (BNSF) may also be involved because both railroads occasionally use each other's tracks.
Acording to Somsky, the purpose of the petition is to gather tangible community support that can then be forwarded to the Douglas County Commissioners. Douglas County Principal Traffic Engineer Robert Kenney said that the County is interested in this issue and has already conducted a two-year draft study of railroad quiet zones for the entire County area.
CPHA and Douglas County Public Works are looking at various solutions to reduce train whistle noise, which may include the consolidation or elimination of some of the private crossings.
Why so Much Train Whistle Noise?
Train horns are sounded for safety reasons – to warn of approaching trains. The Federal Railroad Administration (FRA) requires that locomotive horns be sounded at all public grade crossings 15-20 seconds before entering a crossing, but not more than one-quarter mile in advance.
The pattern for blowing the horn remains two long, one short, and one long sounding to be repeated as necessary until the locomotive clears the crossing. Locomotive engineers retain the authority to vary this pattern as necessary for crossings in close proximity and may sound the horn in emergency situations. These regulations preempt any state or local laws regarding the use of the train horn at public crossings.

Quiet Zones
The FRA also provides public authorities with the option to maintain and/or establish quiet zones, provided certain supplemental or alternative safety measures are in place and the crossing accident rate meets FRA standards.
Castle Pines Village resident Norm Froman supports the petition and has been very involved in efforts to address the train whistle noise and establish quiet zones. "My wife and I have been in Castle Pines Village for over twelve years. The train whistle noise is horrendous, especially since they switched over to the Max10 horns that have a decibel rating of 110 dB."
"They make it so you cannot enjoy outdoor functions, cannot sleep with windows open, and, in most cases, you can even hear them clearly inside of closed houses," said Froman. "Some of our neighbors complain that they do not have a straight picture in their houses because of the vibration caused by the horns."
Froman contacted the engineering groups and legal departments for both Santa Fe and Burlington Northern and was ultimately told that if they were building the railroad in that area today, they would not put up signs at intersections that are not continuous roads, but since the signs are there, they would not remove them.
"I think the only way that we will get rid of the horns is if some of the other County issues would make them shift this right-of-way over to the other track location, a few hundred meters to the southwest," he continued. Editor's note: Another possible solution may be the track realignment proposed as part of the Atrium at-grade alternative for the North Meadows Extension Project.
Neighboring Communities Establish Quiet Zones
Castle Rock Police Chief Tony Lane is sympathetic to Castle Pines Village residents. "I live about a mile away from a crossing and, if the wind is just right, you can really hear it and it's annoying," said Lane.
Lane has been working this past year with the Castle Rock Transportation Planning Manager to address train whistle noise within the Town's city limits with limited success. "It is a costly and time-consuming process; the Town will need to invest $1-2 million dollars over the next 12-18 months to bring three downtown crossings into compliance with the FRA in exchange for the quiet zones," said Lane.

Next Stop for Petitioners?
Because CPHA's issue involves private crossings and not public crossings, solutions may be quite different than those of the Town of Castle Rock. Ongoing discussions with the County, as well as the circulating petition, may bring positive results in what has been a frustrating and long process for Village residents.
Somsky says he will continue collecting petition signatures until the end of January 2010. He then plans to present the petition to U.S. Senators Michael Bennet and Mark Udall, as well as to the Douglas County Board of Commissioners.
To date, the petition has almost 1,000 signatures. Somsky is also looking into alternative train whistle technology for the private crossings.
As one Village petitioner put it, "I hope that Union Pacific and Burlington Northern listen to the outcry of the people along Santa Fe. This noise pollution is unnecessary and unwanted!"
For more information about the Federal Railroad Administration, visit www.fra.dot.gov. For more information about Union Pacific Railroad Company, please visit www.up.com or www.uprr.com. For more information about Burlington Northern Santa Fe Railroad, go to www.bnsf.com.
Residents and neighbors who wish to review and/or sign the petition can do so by going to www.ipetitions.com/petition/stoptrainwhistles/ or www.castlepinesvillage.org.