Volunteering opportunities abound in the community
September 1, 2016
/
/
Comments Off

on Volunteering opportunities abound in the community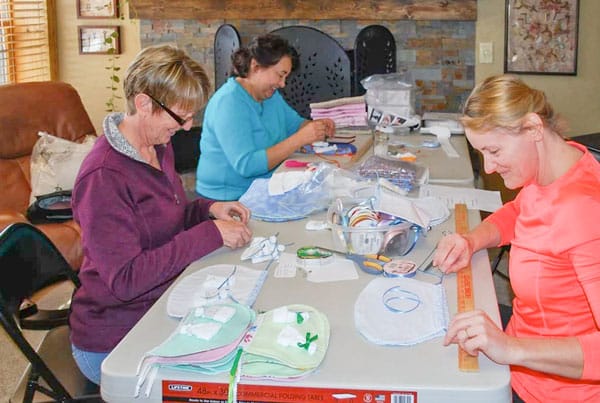 Bushey (in orange at right) volunteers with Front Range Angel Gowns, which transforms donated wedding dresses into burial gowns for babies lost too soon.
By Lisa Nicklanovich; photos courtesy of Brenda Bushey
Want to learn new skills, make new friends, strengthen our community and bolster your resume? Then consider volunteering. Whether you have a few hours here and there to give or more, consider these websites to help you choose an opportunity that fits you best:

www.JustServe.org links you to service opportunities in our area. From making blankets to helping set up for local events or being a bingo caller, there are many fun and simple projects to help with.

www.allforgood.org puts your skills, such as bookkeeping, floral arranging or horse riding to name a few, to good use in helping others.

www.VolunteerMatch.org matches you with some of the 100,000 plus nonprofits all around the world. You choose if you would rather do something local or virtual and you choose a category you care about, such as children and youth or health and medicine.

www.voacolorado.org is the Colorado branch of Volunteers of America. Deliver meals, tutor, mentor, assist or even customize a project.

www.voc.org is the Volunteers for Outdoor Colorado, which works with conservation and land agencies to provide a volunteer workforce for outdoor stewardship projects all over Colorado. Take part in trail construction and maintenance, habitat restoration, gardening and planting and historic preservation.

www.idealist.org allows you to drill down by location, time commitment, and area of interest to find your opportunity. Plus, this site has jobs, internships, and action opportunities in addition to volunteer opportunities, some of which are international.

Many local agencies, such as the Dumb Friends League, the Douglas/Elbert Task Force and Volunteer Connect Douglas County come up on searches in the above listed websites which are all designed to help connect you with a need, based on your interests and desired location.

Check with the organization(s) you are interested in for age requirements or fees. Most welcome children and teens, families, professionals, retirees, community groups and corporate groups. Whether you are a student who is completing volunteer hours or a skilled professional looking to share your expertise, give volunteering a try since most volunteers say they get more from their volunteering opportunity than they give!

Brenda Bushey of Hidden Pointe with her daughter Sarah at a Girls on the Run event. Girls on the Run empowers girls to become healthy and confident young women, which is one of the reasons Brenda has been a volunteer and coach for many years.