What's Your Apptitude? Giftster helps find the perfect gift
December 1, 2019
/
/
Comments Off

on What's Your Apptitude? Giftster helps find the perfect gift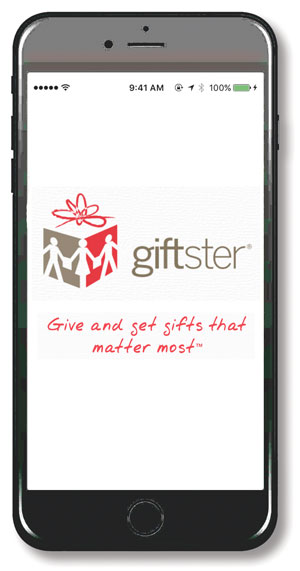 By Lisa Nicklanovich
If you struggle with trying to find a just-right gift for everyone on your holiday list, give Giftster, a private web and mobile gift registry a try. The giftster app is free for iOS and Android devices and both the app and website are very easy to use. It makes sure the gifts we give and receive are just right.
Whether you try the Giftster website or app, the idea is that users share their wish lists with family and friends. I like the fact that while the gifts may not completely be a surprise, they are exactly what was wanted and will be welcome. Think of all the returns that happen after the holidays. Giftster takes away the stress of guessing and potentially wasting time and money.
Create a group in Giftster by pulling contacts from your address book and then invites are automatically sent. Everyone in the group works on their own wish list by pasting in web links to items. Then Giftster auto-populates a photo of the item, a description, the price and of course where to buy it. If you don't have a link or it's not an online item, simply type in the information for the item and where to get it.
Users can set their preferences, like sizes and interests, and then rank items on their wish list so gift-givers know the recipient's priorities. I am thinking Giftster will not just be helpful during the holidays, but for birthdays, graduations, college registries, weddings, showers and gift exchanges. Multiple groups can be set up for different occasions and used throughout the year and for years to come.
When you are looking through someone's wish list, you can click reserve to hold the gift so no one else can buy it. Once purchased, which you can do directly from Giftster, the item is no longer available to others in the group. The person who created the list can't see if or when any gifts on their list have been purchased, so the gifts stay a secret until actually received.
I'm imagining some genuine, "That's exactly what I wanted!" comments this gift-giving season.