Wildcat Mountain homesteaders
June 1, 2017
/
/
Comments Off

on Wildcat Mountain homesteaders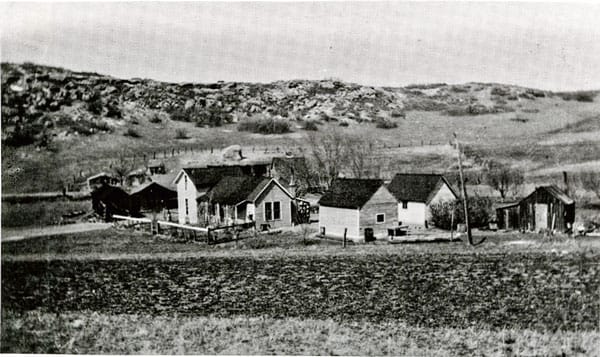 Kroll's Glendale Farm, circa 1915. Today with buildings long gone, this is now Douglas County dedicated open space and a dog park directly east of I-25 and opposite Surrey Ridge.

By Joe Gschwendtner; photo courtesy of Douglas County History Research Center at CR Library
Who were these homesteaders who chose to settle in our Wildcat Mountains? Why did they do it, especially in higher altitudes than the plains north and east? Some directed insight might allow better understanding of how larger local landholdings came to be.
Key to all was the Homestead Act, signed into law by President Abraham Lincoln in 1862. Designed to open up the American West, 160 acres of surveyed land was available to the head of any family free of charge. Terms and conditions: improve the plot with dwelling and cultivate the land. If the grantee failed, the land was relinquished – restored to federal government inventory. An alternative arrangement allowed for a homesteader to stay for just six months followed by payment to the government of $1.25 an acre. Land could also be bought outright for cash. By 1900, more than 80 million acres had been allocated.
The rectangular survey system, still in use today, organized land based on a section or 640 acres. Theory had it that a family could realistically farm only 160 acres. While true in the more temperate Great Plains, conventional farming was challenging in the more parched regions moving westward. Whether dry-land farming or cattle ranching, a quarter-section seldom sufficed for a western homesteader with any serious ambitions.
Unfortunately, the ambiguous manner in which the Act was framed invited speculation. Thus, much free land appears to have gone to miners, railroads, timber-men and frontmen for others seeking to accumulate rights to the vast and unrealized mining, water and timber riches of the land.
In evaluating greater than section-sized original homesteaded landholdings in our Highlands, only the Chase, Schweiger and Kroll parcels stand out. The Austrian Kroll brothers (Alois and Joseph) filed first in 1890 staking out Glendale Farms, later to comprise much of Surrey Ridge. The Schweigers (Joseph, Jacob and John) followed in 1891, becoming the Kroll's northern neighbors at their Happy Canyon Ranch. John had previously worked in Leadville mines with the Krolls and almost certainly collaborated in sharing their dreams as neighbors in contiguous homesteads.
The Chases arrived last from Michigan in 1895. We know John Chase Senior was an environmentalist when few existed. Sons Syl and Fred Chase were cattlemen, ranchers who needed vast spaces to hedge their bets on success.
The Union Pacific was also a major western landowner. The federal government made large swaths of land available to the railroads in their push westward. Besides rights-of-way for track construction, railroads were granted every other section of land outside their right-of-way in a checkerboard pattern. Gratuitous by design, railroads were allowed to sell surplus land to create expansion capital. Much of today's Beverly Hills and a healthy portion of the City of Castle Pines was land formerly owned by the Union Pacific Railroad.
In the end, the original stewards of our lands seem to have been the best kind of homesteaders. The proof of this is evident in the verdant woodlands, meadows and all the serenity – vast and incalculable value still remaining to be enjoyed by all of us.