A conversation over coffee
February 1, 2020
/
/
Comments Off

on A conversation over coffee
Article and photos by Terri Wiebold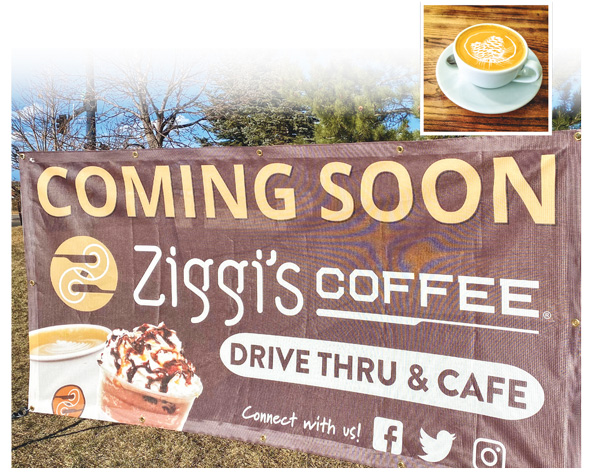 A mere two short months following the closing of Dazbog Coffee in the King Soopers shopping center of Castle Pines, the rich aroma of coffee will waft out the doors of 7298 Lagae Road once again.
Ziggi's Coffee opened in 2004 as a small coffee shop on the corner of Main Street in downtown Longmont, and has since grown to multiple drive thru and coffeehouse locations across Colorado. The first franchise location was opened by Stephen Anderson in Loveland in 2017.
Last month, The Connection sat down with the co-owner of Ziggi's in Castle Pines to learn a little more about the company and its plans for the first franchise location in Colorado south of I-70.
"My brother, Stephen Anderson owns several Ziggi's franchises, and we partnered on the Castle Pines location together," said resident Michelle Wiley. "We are very excited to bring Ziggi's to Castle Pines and become an active part of the community."
Wiley, her husband, Matt and their three children Victoria (5), Elizabeth (3) and Michael (2) have lived in the City of Castle Pines for nearly two years. "We were drawn to the community because of the beautiful landscape, trails and sense of a smaller community feel," said Wiley. "We love it here."
Ziggi's has been a partner with Denver-based coffee roaster Coda Coffee for more than 10 years. The Castle Pines location will offer classics like daily brew hot and iced coffees, lattes and cappuccinos, as well as frozen blenders and coffee alternatives like hot chocolate, tea, cider, fruit smoothies and Italian sodas. Ziggi's will serve breakfast options that include breakfast sandwiches and breakfast burritos, as well as breads and pastries. "Ziggi's proudly supports our local Colorado vendors," said Wiley.
The interior of the coffee shop is currently undergoing major renovations, and minor changes are in the works for the drive thru to make access easier for larger vehicles. "We want to offer plenty of cafe-style casual seating and also have a larger table for group meetings," said Wiley.
Ziggi's is currently building its team and plans to open for business in mid-February. For more information or to apply for employment, go to ziggiscoffee.com.