A flair for fitness leads to new business venture
August 1, 2015
/
/
Comments Off

on A flair for fitness leads to new business venture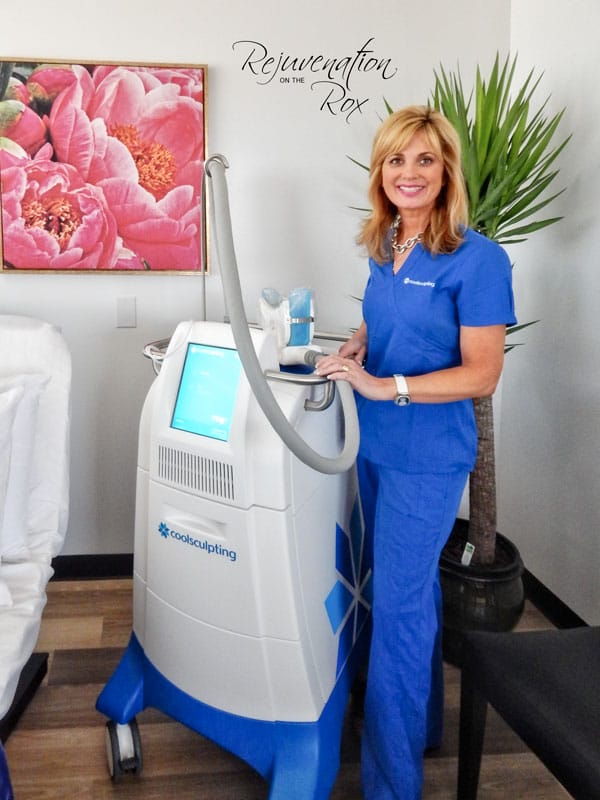 Alyda Macaluso of Castle Pines Village has been a fitness pro for more than 20 years and now co-owns Rejuvenation on the Rox/CoolSculpting with partner Roxy O'Bryan. The office is located in Greenwood Village.
Article and photo by Lisa Nicklanovich
Alyda Macaluso of Castle Pines Village (CPV) has focused on fitness her whole life. From being a classical dancer in her teens, to leading large aerobics classes (100 people), to running fitness programs at an exclusive spa, Macaluso loves the process of helping people. "The transformation process is my favorite," she said. "I love empowering people to get them on a path that helps them achieve their goals."
Focusing on her love of biology and health education, Macaluso earned a dual degree from Texas A&M University. She put her degree to use by working in hospitals where she was very successful at getting patients up and moving. "I learned about working with different ages, body types and with both men and women."
After 20-plus years of fitness expertise, Macaluso is now transforming people in a new way, through her business Rejuvenation on the Rox/CoolSculpting located in Greenwood Village. With partner Roxy O'Bryan who has extensive experience with the CoolSculpting procedure, the two (along with Medical Director Stephen Goldstein) are literally freezing unwanted fat away without surgery. Macaluso said, "I was a client of Roxy's and got so excited about the results that I wanted to share this!" Macaluso commented that many people get frustrated with certain areas that are resistant to diet and exercise and that CoolSculpting, which is FDA-cleared, can selectively eliminate fat cells. Rejuvenation on the Rox offers a variety of other services such as Botox and skincare products as well.
Macaluso has lived in CPV for eleven years. She met her husband Michael on an elevator – at a gym, of course. They were married in Estes Park, one of her favorite places and a main reason they moved from Texas to Colorado. Macaluso said, "Growing up, we lived all over, even overseas. No matter where we lived though, we always spent part of the summer in Estes Park. Cousins would come and it has always been a safe place and fostered my love of the mountains." The move to Colorado meant more quality family time. Macaluso added, "Castle Pines meant more time in nature, more wildlife and proximity to the mountains, as well as the city."
The couple have three children, Lexi (23), and twins Maddi and Tori (17) who are seniors at Rock Canyon High School.
For more information about Rejuvenation on the Rox or to schedule a free consultation, visit www.rejuvenationontherox.com or call 720-328-9094.