Residents make school news and information mobile-friendly
July 1, 2015
/
/
Comments Off

on Residents make school news and information mobile-friendly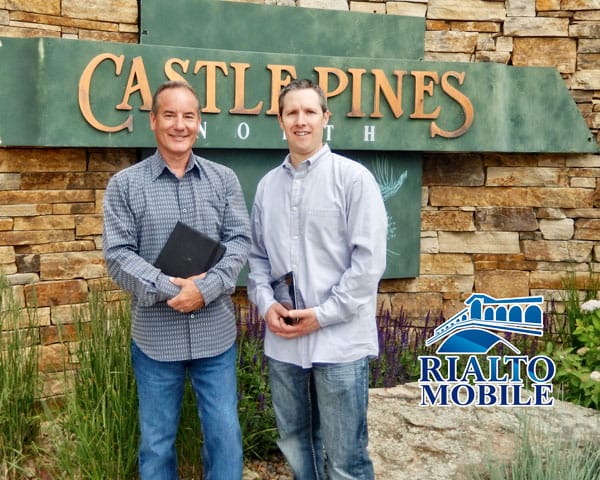 Robert Matuszewski and Tim Fitzpatrick, partners at Rialto Mobile, offer a mobile app to schools to aid in communication of important information. Schools can use the app for free.

By Lisa Crockett; photo courtesy of Rialto Mobile
Castle Pines Residents Tim Fitzpatrick and Robert Matuszewski, partners at a mobile marketing firm in Highlands Ranch named Rialto Mobile, want to make things easier for school officials and the parents and students they serve. Their new school mobile app program, which is offered to schools free of charge, puts a wealth of information in an easy-to-use, adaptable format.
"If you look at most school websites on a mobile phone, it's nearly impossible to see what is there," said Fitzpatrick. "With our mobile portal, it's easy to access important information."
That important information includes school directories, commonly used phone numbers, and up-to-the minute announcements.
"One thing that we think is really useful to schools is 'push messaging'," said Fitzpatrick. "If a school is on a delayed dismissal schedule for severe weather, for instance, a push message can convey time-sensitive information quickly."
Because the school mobile app program is supported by advertising, Rialto provides the service to schools free of charge and takes care of marketing the app to the school community. In addition, Rialto shares some of the revenue generated by the app with participating schools.
"We want to make this as easy as possible," said Fitzpatrick. "We do the heavy lifting. We're excited about this program because most schools we talk to can benefit from what our mobile app can offer."
For more information about Rialto Mobile's School Mobile App program, visit www.rialtomobile.com.