A life not yet fully lived; Charlie needs a kidney
October 1, 2015
/
/
Comments Off

on A life not yet fully lived; Charlie needs a kidney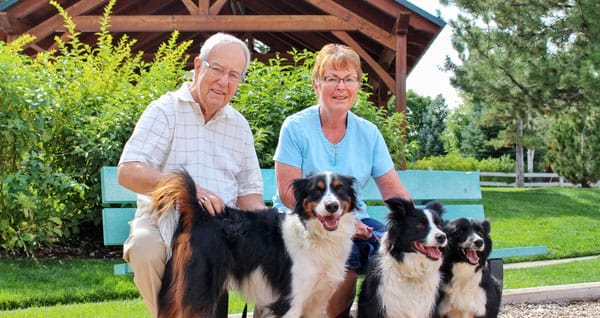 Charlie and Lynn Green of HOA2 have been married 58 years. They are hopeful of finding a kidney donor for Charlie so they can do and see much more in life – including traveling to visit family, friends, and foreign exchange students they hosted over the years. Their dogs Tucker, Claire and Riley keep them busy at the dog park and at Claire's flyball competitions.
Article and photo by Elean Gersack
Charlie Green is as good as they come … kind, quick-witted, devoted, smart and all heart. Charlie needs a kidney and hopes someone out there reading this might be able to help.
Charlie and his wife of 58 years, Lynn, have lived in Castle Pines since 1995, originally in HOA1 and in HOA2 since 1999. He and Lynn grew up near each other in Norfolk, Virginia and became sweethearts after being church friends for years starting as youngsters. Married at ages 20 and 18 respectively, they went on to have three children, five grandchildren and five great-grandchildren as well as having played host to 14 foreign exchange students over the years. Now, their dogs (Claire, Riley and Tucker) and cat (Lucy) keep them busy. Claire is an expert flyball competitor who, like youth soccer players, tours the state and region for her sport.
Leading up to his years in Castle Pines where his long-standing efforts on the HOA2 homeowner's association board helped secure the picnic pavilion, sports courts and new playground area, Charlie spent 38 years in the aerospace industry working for both NASA and Lockheed Martin.
His accolades include working on major space programs at NASA, including the Lunar Orbiter Program and Viking unmanned landers on Mars as well as building and testing spacecraft at Lockheed Martin. To this day, Charlie remains engaged in his passion for space exploration through his volunteer efforts at the Space Odyssey exhibit at The Denver Museum of Nature and Science. He has been a staple there every Tuesday since the exhibit's inception in 2003.
The Greens have lived a very full and active life but it is not as easy as it used to be. Charlie's kidneys began to fail about eight years ago and despite efforts by Lynn to care for his illness through diet and medication alone, he had to start dialysis three years ago.
Charlie chose Peritoneal Dialysis, a form of dialysis that is done at home overnight through a permanent catheter. It allows more freedom during the day but still presents challenges for any sort of lengthy travel as the equipment is cumbersome and the hook-up takes 10 hours each night. At the present time, Charlie has about 10 percent kidney function.
He is on the donor list for a kidney transplant, but not knowing if and when a match might be found is a hard pill to swallow for someone who wants to continue to be active and healthy. Unfortunately, Lynn is not a match and nor are their children, so they must hold out hope for a match from a donor list, direct donor match or through a paired exchange (matching "pairs" of donors/recipients who are not a match for the person they are trying to help – one helps one and the other helps the other and two people get the organs they need).
Charlie hopes to find a match sooner rather than later as he is healthy and ready for surgery. He needs a match with someone who has any "O" or certain "A" blood types. Medicare will cover all evaluation, surgical and post-operative expenses for a qualified match. Donors must be in excellent physical and psychological health, have an ideal body weight, be free from chronic illnesses and be 18 years of age or older. Older donors (59+) who are in optimal health can be evaluated on an individual basis; age alone is not a deciding factor.
The Greens would be forever grateful to anyone willing to be evaluated as a potential match. When asked what it would mean to them to find a match, the emotion was evident from both. "What life we have remaining, we want it to be a good life doing things together," said Charlie. "We've got to keep moving," added Lynn.
All it takes is a simple phone call to learn more. There is no pressure and no obligation whatsoever for inquiring. All questions can be made to Neshiyqah ("Nesh") Nash at University of Colorado Hospital (720-848-0855). To learn more about living kidney donation, visit The University of Colorado's information page at www.uchealth.org/livingkidneydonation.