New neighborhood of custom homes comes to Castle Pines Village
October 1, 2015
/
/
Comments Off

on New neighborhood of custom homes comes to Castle Pines Village
The Settlement is a new development of 12 custom luxury homes in Castle Pines Village.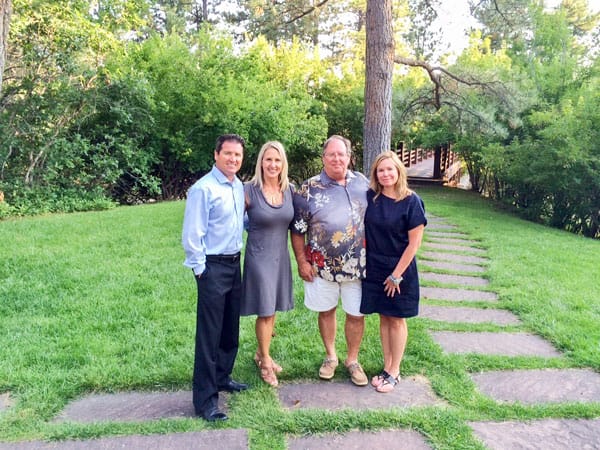 Two well-known Colorado home builders will build The Settlement. Chris and Amy Sublette (owners of Ryan Homes Inc.) are pictured left, and Bill and Jill Maul (owners of Viaggio Homes) are pictured right.
By Amy Shanahan; photo courtesy of Shawn Kelley
An exciting new opportunity for home buyers has just come to Castle Pines Village (CPV). Twelve beautiful lots within a community called The Settlement were recently put on the market, and they are already attracting attention.
The Settlement lies within Castle Pines Village, on the north side of the neighborhood with the west side of the properties backing to Daniels Park Road. The lots range between one-half acre to three-quarter acres featuring exquisite views of the mountains or cozy lots full of beautiful trees and natural foliage.
The property was originally owned by Kirk Kimball, the son of "Tweet" Kimball who owned and lived at the Cherokee Ranch & Castle until her death in 1999. Kimball sold the property approximately eight years ago to Chris and Amy Sublette, the owners of Ryan Homes Inc., a premier home builder in Colorado. After years of working with the county and the design review committee within CPV, the Sublettes are thrilled to begin the building process.
"This property is so special," remarked Amy Sublette. "The biggest appeal is the beautiful landscape with both trees and hills. It's almost like a sanctuary."
The Sublettes maintained ownership of six of the lots within the property, and sold six of the lots to another premier Colorado builder, Viaggio Homes, which is owned by Bill and Jill Maul. Both builders are intent on building custom luxury homes with an Old World European feel that make the most of the spectacular setting. They have also preserved a wildlife corridor on all sides of the property in order to ensure privacy for the new owners and to maintain the native feel.
Currently the lots are selling from the upper $300,000s to the upper $500,000s and home buyers have the opportunity to work with either of the builders to create the custom luxury home of their dreams. Each of the builders is currently building a spec home in order to attract buyers and to show potential buyers the possibilities. Jill Maul remarked, "Castle Pines Village is a well-established neighborhood but The Settlement offers something new."
To learn more about The Settlement and view aerial footage of the property, visit http://www.castlepines.com/builders/the-settlement/. To learn more about Ryan Homes Inc., visit www.RyanHomesColorado.com, and to learn more about Viaggio Homes, visit www.ViaggioHomes.com.