April 1, 2012
/
/
Comments Off

on A taste of…Tana Dolce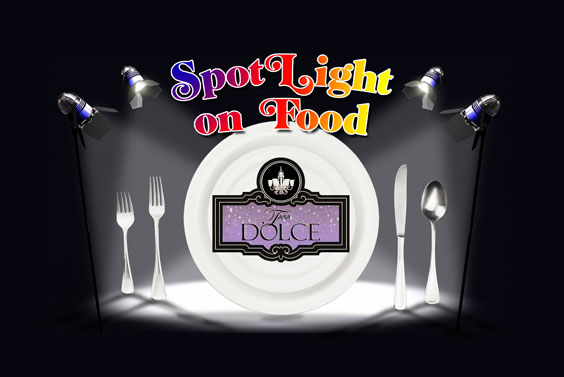 By Liane Marette Davis with photos provided by Tana Dolce
Looks might fool you on the outside, but many charming treasures await you inside Tana Dolce. Upon entering, you will find it enchantingly decorated with romantic colors, chandeliers, cozy nooks, velvet and silks, intimate balconies, fireplaces, and an exquisite bar that makes you want to stay awhile, soaking it all in.
Located upstairs, the wine bar is a place for celebrating, laughing, and relaxing. It serves an extensive wine list, featuring more than 50 wines. The friendly staff and warm welcome from owner Kim Geiger makes your experience all the more perfect. While the menu is petite, it offers creative choices inspired by Italian small plates. Your palate will be deliciously satisfied. Tana Dolce offers salads, chicken and beef, crab, and pizza. The Fondue, Italian bruschetta, and Tuscan queso are must haves.
Tana Dolce means "sweet hideaway" in Italian and oh how sweet it is! A pastry case welcomes you with mouth watering and tempting choices. Select from cheesecake, cookies, biscotti, tiramisu, cannoli, toffee butter crunch, or scrumptious cake bites. A recent addition to Tana Dolce is the boutique area that displays aprons, cookbooks and ceramics. Owner Kim Geiger's personal line of bath and body care products called "K.CHERIE Bath and Body" are a personal treat. Products include Dead Sea salts, poured olive oil soaps, custom fragrances, herbal bubble bath, skin care products, and more.
Join for the "happiest hour," which is weekdays from 4 p.m. – 7 p.m. Ladies, Wednesday is ladies night and you won't want to miss it! Sip on select wines all night for $3 or the special martini of the night for $5, and enjoy live music on Saturday evenings in the bar.
You can also extend happy hour time spent in Tana Dolce's full service salon and spa. It is the perfect place to pamper yourself and spend quality time with friends. Try the beauty bar nights called "Coccolare" (meaning pamper in Italian). Groups of up-to-twenty women may gather at a cost of between $25-$35 and enjoy a food buffet and wine while taking turns at different stations, including facials, chair massage, waxing and hand massage.
Come and join Tana Dolce for a couple of fun events in April. A Studio Wine Painting class featuring sunflowers and sangrias will be held on Tuesday, April 10 at 6:30 p.m. Studio Wine is a monthly wine and painting class held in the upstairs bar. The classes are led by Donna Martin of Castle Rock. Next, they will host a huge shopping mecca, "sip and shop" from 10 a.m. to 4 p.m. featuring purses, jewelry, artists and wine specials on Saturday, April 14.
Tana Dolce is located at 310 North Wilcox Street, Castle Rock. It is open Wednesday and Thursday from 4 p.m. – 9 p.m., Friday and Saturday from 4 p.m. – 10 p.m. The wine bar is closed Sunday through Tuesday. The salon and spa are open daily by reservation only.
For more information visit www.tanadolce.com or call 303-688-1133. Ask about hosting private parties, events or special occasions!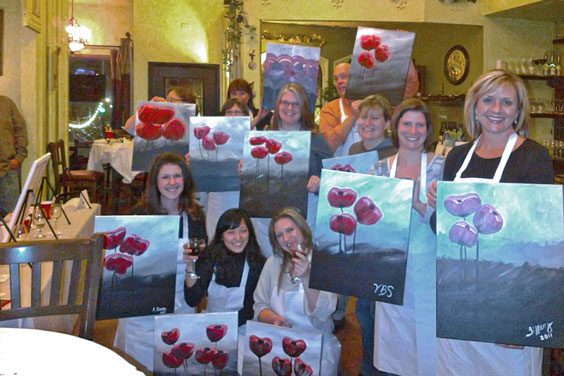 Studio Wine Painting class featuring flowers and sangrias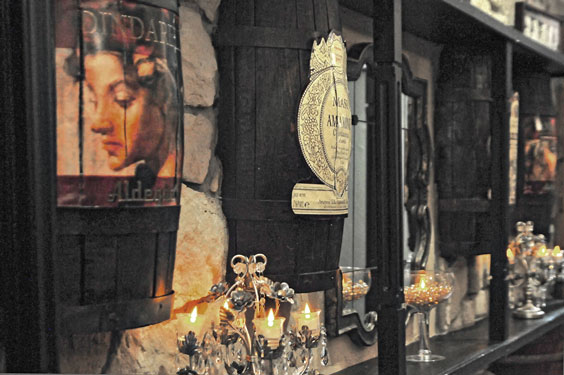 The enchanting interior of Tana Dolce