DCSM gets a taste of Mexico
May 1, 2012
/
/
Comments Off

on DCSM gets a taste of Mexico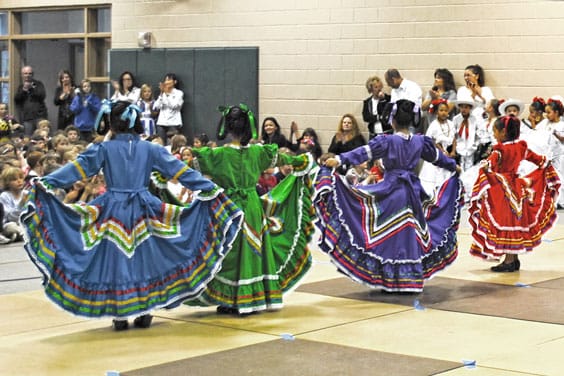 Students from Mexico wowed the audience at DCSM with their fancy dance in multi-colored dresses.
Article by Jodi Anderson with photos courtesy of DCSM
For twenty years, a private elementary school in Mexico has sent a group of six and seven year old students to Colorado. DCS Montessori (DCSM) is fortunate to have helped host these new friends and their teachers.
One of the main goals of these visiting students is to share their culture and the wonderful diversity it offers. With its diverse ecosystems, foods, music, dance and countless others aspects, Mexico is a land of beauty, layers, and history. While visiting DCSM and Colorado, the students were able to see the Denver Aquarium, the Museum of Nature and Science, take a ski trip, and do some shopping.
At the end of the week, our visitors held an assembly to present two dances from their native land. Multi-colored dresses, outfits and fancy footwork combined with energetic music to enthrall the DCSM students and staff. In the second dance, using only their feet the dancers manipulated a long red ribbon on the dance floor to tie a bow.
After the traditional dances, upper elementary faculty member, Mike Catalano, began his educational monologue to thank our esteemed guests and explain the educational objectives behind this collaborative event when he was interrupted by a spectacular Flash Mob performed by the upper elementary students. The dance moves and music enticed other audience members to join in.
This was a trip that will be long remembered by those of us here at DCSM School and hopefully by our wonderful visitors as well.

Mexican boys and girls broke out some instruments inone of their cultural performances at DCSM.