Cloudy with a 100% chance of Storm!
May 1, 2012
/
/
Comments Off

on Cloudy with a 100% chance of Storm!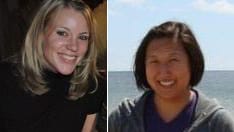 New Head Coach, Christina Kwon (right), and new Head Assistant Coach, Kate Burns, both from Colorado Athletic Club are excited to be part of Storm swimming this summer.

Article by Kathy Dunker with photos courtesy of Storm Swim Team
Castle Pines Storm Swim Team is brewing as it make its way into summer with two brand new coaches and lots of fun in store. Storm accepts children between the ages of 5 and 18 who are able to swim one length of the pool (or 25 meters) without help. Ninety-two swimmers strong last year, Storm plans to cap enrollment at 120 spots for the upcoming season.
New Head Coach Christina Kwon and new Head Assistant Coach Kate Burns both come to the Castle Pines Storm with extensive coaching experience. Both ladies are also currently assistant age group coaches with the Colorado Athletic Club Stingrays as well.
Prior to her move to Colorado, Kwon spent six years as an age group coach where she coached swimmers of all abilities from developmental to state qualifiers. Kwon also spent six years as a high school swim coach. Kwon attended the University of Chicago, where she was a varsity swimmer and record holder. When not on the pool deck, Kwon has worked in the non-profit world as a project manager of education-related programs.
Kwon remarked, "Kate and I are both looking forward to this upcoming season with the Storm, especially since they are a young and upcoming team. We plan on structuring our season for both high level swimming instruction and the maximum level of fun. We have already started planning for Friday morning team breakfasts, themed swim meets, and more team bonding and spirit activities. We hope to have a fun and productive summer!"
Registration for new families opened on April 22 and is $150 per swimmer. The registration deadline is June 1, with the season beginning on May 29. Practices will be held Monday through Friday mornings at the HOA1 pool on Tenby Way. The first parent meeting will be held on May 6 at 6:30 p.m. at the HOA1 clubhouse. For more information or to register, go to the team's website at www.castlepinesstorm.com.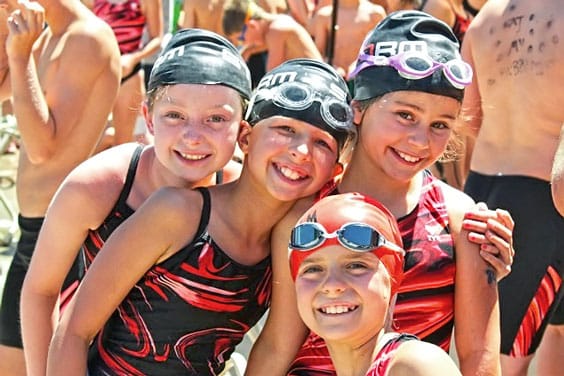 Storm swimmers last season, always had a blast at the Saturday morning swim meets.