"American Pop Forever" BRE fifth grade style
May 1, 2015
/
/
Comments Off

on "American Pop Forever" BRE fifth grade style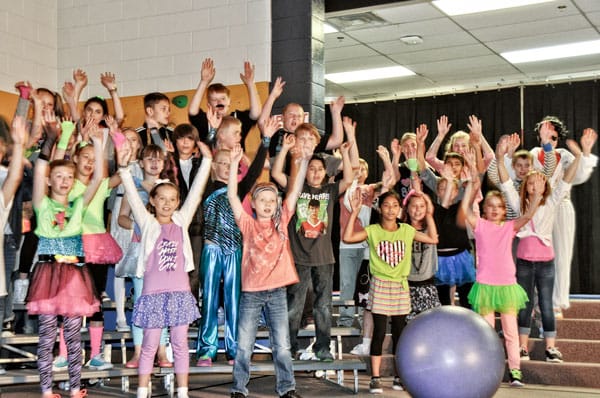 BRE fifth graders rock out in "American Pop Forever." Singing songs such as "Rock Around the Clock", "I Feel the Earth Move", "YMCA", and "Hold My Hand", the performers captured the audience's hearts with their talent and spirit.

Fifth graders sang and performed to YMCA while the "Village People" balanced on yoga balls to add to the festive spirit of their performance.
Article and photos by Lynne Marsala Basche
In the words of Elvis Presley, "Rock and roll music, if you like it, if you feel it, you can't help but move to it." There was no shortage of movement by either the performers or the audience at Buffalo Ridge Elementary (BRE) school's 15th annual fifth grade show.
"American Pop Forever" was this year's theme, and singing, physical routines, and dances were all the rage for the 30-minute performance. Faculty, students, family, and friends were swept up in the excitement of the show and clapped, sang and bounced around in their seats. With pop songs spanning the 1950s through the 1990s, the spirited mood extended beyond the stage and was contagious.
For the past few months, fifth graders worked diligently on singing and narrating pieces in their music classes with Catherine Deneault, BRE's music teacher and show's musical director. Physical routines were created and rehearsed in P.E. with Ronda Gutierrez. When asked what was different about this year's show, Deneault said, "The ownership from the kids. They were truly in charge of it all – physical routines, riser choreography, decisions on how to run the show. And, we had three students choreograph the finale song completely on their own – Essa C., Emma H., and Hailey V."
Whether students were singing, doing routines on the risers, twirling a hula hoop or even performing while standing on a balance ball, their enthusiasm was clear. "I enjoyed spending time singing and dancing with my friends," said a happy Julia M. Judging by the smiles all around, that feeling was universal.
Deneault believes that the fifth grade show is one of the year's highlights. "I love doing a big performance with the fifth graders," said Deneault. "I've known most of the kids since kindergarten, and to be able to provide a way for them to show what they can do now is so rewarding."
The fifth grade show has become a rite of passage for students. Deneault is excited when former students come back and tell her how much the show meant to them and that they still remember all the music and routines. For all of this year's BRE performers, way to go!