And the Outstanding Jaguar Award goes to …
June 1, 2019
/
/
Comments Off

on And the Outstanding Jaguar Award goes to …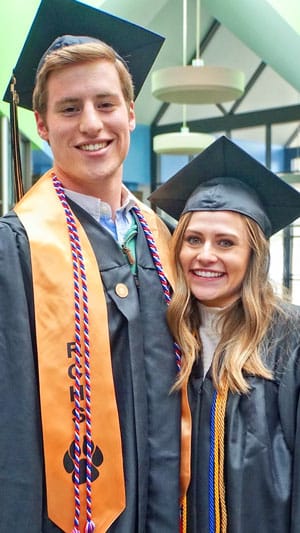 Pictured right: Isaac Abramovitz and Mara Powner, both former students at Buffalo Ridge Elementary school, participated in the "senior walk" through the halls of their former elementary school. In the fall, Abramovitz will attend Northwest Prep Academy prior to the U.S. Air Force Academy and Powner will attend California Lutheran University.
Article and photo by Carin Kirkegaard
Isaac Abramovitz and Mara Powner, graduating seniors from Rock Canyon High School and Castle Pines residents, were awarded the "Outstanding Jaguar Award" at the Honor's Night Award Ceremony held for RCHS students graduating with honors.
Each month the staff at Rock Canyon High School selects two students from each grade level to be the "Jag of the Month." These students are selected for their strong character and values, a commitment to being kind, caring and inclusive, as well as demonstrating excellence in academics, activities and athletics. The pinnacle comes as the year draws to a close and two seniors are awarded the "Outstanding Jaguar Award" from all the "Jag of the Month" recipients over the past four years.
"Isaac is the epitome of kindness, responsibility and honor," said Principal Andy Abner.
"I'm thankful for everyone who has helped me to carve that path and support me in my endeavors at the United States Air Force Academy," said Abramovitz. "Being the male outstanding Jag means the world to me… I'm extremely thankful for all that Rock Canyon has given me," Abramovitz continued.
"Mara works hard at everything, she isn't afraid of a challenge… she has a big heart, and is kind to everyone," said Coach Kent Grams.
"When my name was called for the award I was very surprised," said Powner. She continued, "I was very humbled and excited… My time at RCHS has taught me so much about hard work and determination."