And the winner is… Nighthawk News!
August 1, 2010
/
/
Comments Off

on And the winner is… Nighthawk News!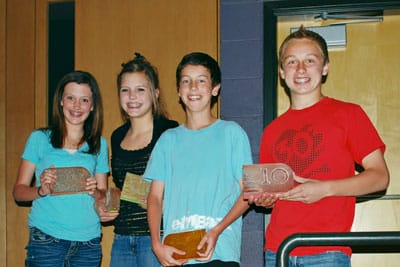 'Not Your Average Love Story' creators (left to right) Paris Allred, Ashley Nuss, Tanner King, Evan Hunchar.
Article by Kathy Dunker with photo by Amy Shanahan
Once again, the students from the Nighthawk News at Rocky Heights Middle School (RHMS) made news of their own. At the end of May, several Nighthawk News reporters created a film and entered it into the Denver Academy Film Festival for Youth (DAFFY). This festival showcases the best student filmmakers in the State of Colorado.
Rocky Heights was one of only two middle schools that participated in the competition this year, and was the only middle school to have a film chosen as a finalist in its category. The students entered a film entitled Not Your Average Love Story, and they proudly walked away with the People's Choice Award.
In its tenth year, the mission of DAFFY is to support and showcase the unbridled creativity of students in Colorado through the medium of film. Nearly 180 short films from 14 metro area high and middle schools were submitted to this year's competition. The winning films were selected by a panel of judges from the Colorado Film School.
Categories for submission ranged from animation, documentary, drama, musical and many more. The People's Choice category is voted on by film-goers who have the opportunity to screen all of the films over three days at the Starz Film Center in downtown Denver.
RHMS teachers Scott Melanson and Chris Cooke oversee the Nighthawk News are quite proud of their students. Melanson says, "The caliber of films at DAFFY is incredible, it is an honor just to be there."