Annual employee scholarship tradition continues at The Country Club at Castle Pines
September 1, 2017
/
/
Comments Off

on Annual employee scholarship tradition continues at The Country Club at Castle Pines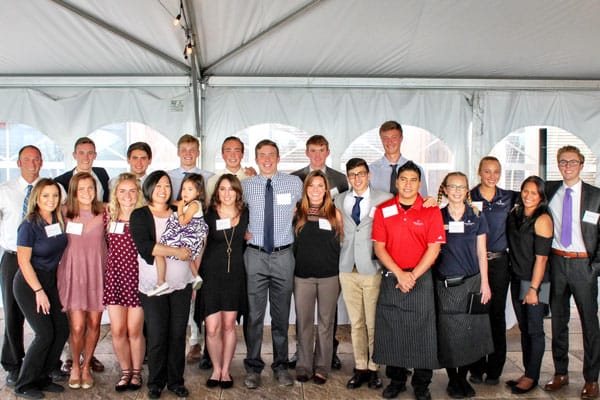 Pictured above left: 2017 CCCP scholarship recipients included (from left to right): Matt Hoffman, Candace Rawson, Reese Hummel, Kristen Thomlinson, Erika Freisner, Ryan Jackson, Erin Hinderliter, Jared Brack, Randi Couch, Jordan Stevenson, Ben McGraw, Paul Gibson, Averie Rice, Jason DesVeaux, Lucas Goodiel, Isai Leyva-Arcos, Sara Rawson, Alli Lane, Roma Roth, Ryan Simpson. Recipients not in attendance included Abby Buretz, Ryan Hough, Jack Kane, Douglas Maier, Bailey McCue, Joe Sarconi and Austin Vannice.
By Lynne Marsala Basche; photo courtesy of The Country Club at Castle Pines
In 2013, The County Club at Castle Pines (CCCP) created a scholarship foundation, including a formal selection committee, to identify recipients for its scholarships. Each year, CCCP members contribute to the fund, which provides financial support to deserving CCCP employees.
The scholarship foundation helps employees with education and related expenses, as well as future college planning. Scholarship criteria is based on scholastic honors, community service and involvement, work ethic and tenure, ambition and overall financial need. This year, CCCP members donated more than $60,000, and on August 9, 27 employees received scholarships.
"To the membership, thank you for participating in such a rewarding program for the employees," said Bailey McCue, food and beverage operations employee and scholarship recipient. "I have loved every minute of getting to know the members here and will cherish the relationships and memories I have made with you all for the rest of my life."