Assume a Loan, Move into a Home – CPN Residents Tap into Forgotten Market
October 1, 2008
/
/
Comments Off

on Assume a Loan, Move into a Home – CPN Residents Tap into Forgotten Market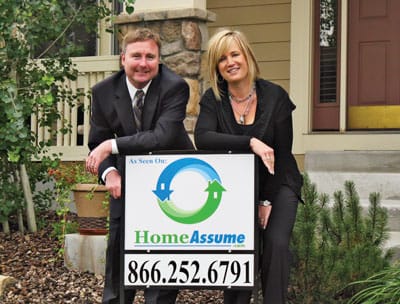 Brad Clemons and Dana Hall, co-founders of HomeAssume.com
(photo provided by Timi Aguilar)


by Terri Wiebold
The adage "everything old is new again" holds true for most things, including the mortgage industry – or so are the hopes of Castle Pines North residents and co-founders of HomeAssume.com, Brad Clemons and Dana Hall.
Clemons and Hall have brought back the forgotten option of assuming home loans, a practice common in the 1970s and 1980s, and have utilized modern technology and the Internet to start their new entrepreneurial venture.
"It literally came to me late one night lying in bed with my husband," said Hall. We bounced the idea around for a few days, and then I called my business partner Brad. Within 20 minutes of the call we had a domain name reserved and it has been non-stop ever since," she said.
HomeAssume.com is the first on-line resource dedicated to helping buyers and sellers find homes with assumable mortgages. An assumable mortgage allows a buyer (who must still qualify with a lender) to get into a mortgage without having to come up with a down payment or pay hefty closing costs in a real estate transaction. Buyers simply take over mortgage payments on the property and move into their new home.
"It's like an online dating service for buyers and sellers," said Clemons. "Buyers and sellers come together on one website as they search for assumable mortgages. It's a win-win for both the buyer and the seller."
It is easier for buyers to qualify for these types of loans with a potentially lower market rate, and sellers do not pay realtor fees when their loan is assumed. Sellers merely pay a flat fee of $49 to post their home on the website.
Both veterans in the mortgage industry, Clemons and Hall are excited to be working directly with clients helping them to explore new options for getting into a new home.
"Our biggest challenge right now is educating the public that these loans are out there and available," said Clemons. FHA and VA mortgages are assumable, as are many conventional adjustable-rate mortgages.
To learn more about HomeAssume.com, contact Clemmons at Contact by email or call 1-866-252-6791.