August 1, 2012
/
/
Comments Off

on Back at it jag style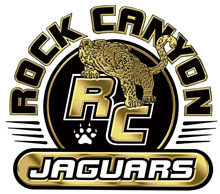 By Kathy Dunker
The Rock Canyon High School (RCHS) jags have a few things on the calendar this month before hitting the books.
Monday, August 13 is the first day of school for all Freshmen and new students. Tuesday, August 14 is the first day of school for all other students.
Wednesday, August 29 is Back to School night for Freshmen parents from 5:30 p.m. to 6:30 p.m.and for all other parents from 6:30 p.m. to 9:30 pm.
Be sure to comb your hair on Monday, August 13 which will be picture day between 8 a.m. and 3 p.m. in the school gym. All students must have their picture taken for their student ID. Wednesday, August 22 will be make-up pictures for anyone who misses it on the 13th.
Get your dancing shoes ready! RCHS will host a back to school dance on Friday, August 24 at 8 p.m.
For further information, visit www.sites.google.com/a/dcsdk12.org/rchs.