Basketball team in Derby, Australia become Jags
January 1, 2019
/
/
Comments Off

on Basketball team in Derby, Australia become Jags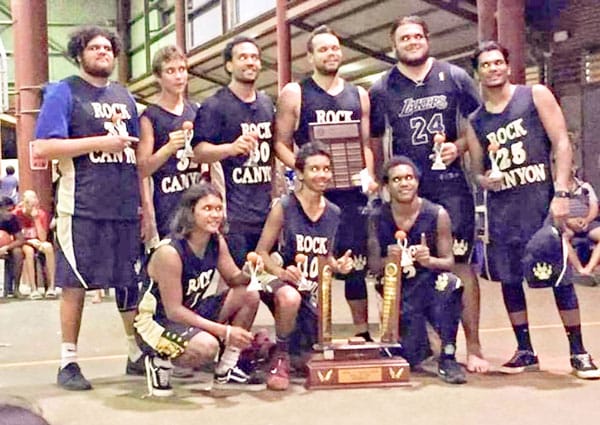 The boys basketball team in Derby, Australia wore uniforms donated by Rock Canyon High School (RCHS). The boys basketball team at RCHS learned about the Derby team after coaches from Derby came to RCHS and spoke about their community.

Article by Lisa Nicklanovich; photo by Andrew Jackson
Donated Rock Canyon High School (RCHS) boys basketball uniforms were a big hit with the team pictured at left, in Derby, Australia. Nick Mahan, an assistant coach for the Rock Canyon High School (RCHS) boys basketball team, helped coordinate an effort to donate RCHS home and away uniforms after the Derby coaches, Trev Sr. and Trev Jr., came into the classroom and spoke about their experiences.
Mahan said, "The class was so moved by what Trev Sr. and Trev Jr. said, that we reached out to different sources to try and find basketball attire for the kids. The kids in the tribal land of Derby have very little and the majority of the teams didn't even have shoes to play in." Trev Sr. and Trev Jr. run a basketball league with about 100 kids and they are community leaders in Derby helping kids with meals, rides, counseling, support and teaching the Aboriginal culture.
Shortly after receiving the jerseys, the team played in a tournament held outside of Derby, in Halls Creek, and were victorious over 14 other teams to win the tournament wearing the RCHS uniforms.
NBA jerseys were also collected and sent to Derby and handed out as prizes during the town fair. The RCHS uniforms will be used by all the local kids and even adult teams in Derby.