Books, the outdoors and the Castle Pines community – library staffer has it all
November 1, 2017
/
/
Comments Off

on Books, the outdoors and the Castle Pines community – library staffer has it all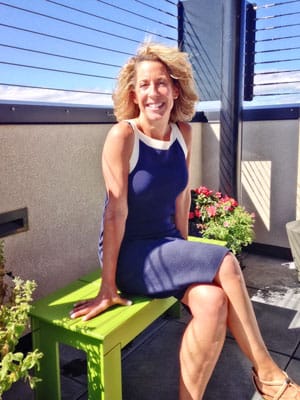 A very cheerful Karen Weber, a public service technician for Douglas County Libraries – Castle Pines sat in one of her favorite spots at the library, the upstairs patio on a sunny and breezy day.

Article and photo by Patte Smith
Karen Weber's enthusiasm overflows when she talks about growing up in Douglas County and the enjoyment she gets being part of the team at Douglas County Libraries – Castle Pines. Those are two of her many passions.
A born nature lover, Weber grew up in Douglas County on a "hobby" farm with her family and plenty of animals. She attended the local schools and was active in 4H for several years. First on the bandwagon to tout the beauty of the entire county-wide area, she stated, "It was a great place to grow up and thrilling to explore the outdoors. I cannot envision any place better than this area."
After she married, Weber and her husband moved from Colorado to Houston, Texas for several years where she was a high school teacher. She enjoyed the experience of living in Texas but was very happy to return to Colorado in 2001 and moved to Castle Pines.
She decided to stay home to raise her three girls, and when they were older she realized she wanted to do something different. Always a book lover, she volunteered at the bookmobile in Castle Pines.
In 2007 and 2008 when the bookmobile in the area ceased to exist and DCL decided not to fund a library in Castle Pines, she joined the crew of individuals knocking on doors and having book drives to raise money to keep a library in Castle Pines. They succeeded with the help of businesses, organizations and individuals that believed deeply in the importance of having a local library.
"A library was important to me, and I set my sights on working at the library in Castle Pines," explained Weber. "Even though I have a master's degree, I knew that this is where I wanted to spend my time."
Weber noted that she was encouraged by several people to pursue her goal. She persevered and did get hired by DCL to work at the Castle Rock branch part-time. A few years later she relocated to Douglas County Libraries – Castle Pines and is currently a part-time public service technician. She has been there for two and a half years. "It is a real joy to be here," she beams. "I am the go-to person when it comes to helping with tech questions. Working with the public and getting to know the regulars is fun. Nothing could be better than living in this community – I love it here and love what I do."
An enthusiast for the outdoors, Weber is a trail runner, and as a huge smile crossed her face, she noted that she achieved a dream come true this past summer. "I ran rim-to-rim in the Grand Canyon in 10 hours. It is one mile down the first rim, 24 miles across and one mile up the other rim. My mom and sister were my 'Sherpas' dropping me off at the north rim and picking me up at the south rim as I ascended out of the canyon," she laughed. "They were fantastic and so supportive – it was wonderful for all of us to be together."
Weber is very busy helping plan "2018 Great Outdoors," a new and exciting event at Douglas County Libraries – Castle Pines. Working closely with fellow library staff members, they are "super excited" to launch this in January 2018. "It is going to be fun for our patrons AND for us!" said Weber. Watch for more details in the December issue of The Connection.