BRE Dream Team raises pennies for patients
June 1, 2016
/
/
Comments Off

on BRE Dream Team raises pennies for patients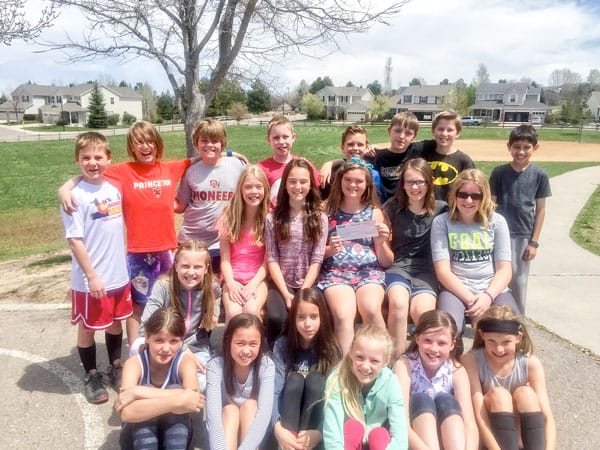 BRE's Dream Team raised $1008.68 for the Leukemia & Lymphoma Society (pictured left to right), back row: Caleb P., Luc B., Ryan C., Ethan S., Ben C., Carter M., Cody J., and Ethan O.; middle row: Kate K., Svea E., Erin M., Emily J. (holding the check), Campbell S., and front row: Molly B., Abby C., Malloree N., Camille L., Alexa C., and Ava T.

Article and photo by Kathy Fallert
Buffalo Ridge Elementary (BRE) fifth graders and members of the school's Dream Team held a final service project for the school year in April. They collected change for the Leukemia and Lymphoma Society to be used for research. Cardboard boxes were sent home in Thursday folders to collect spare change.
The BRE Dream Team is the school's student council, comprised of fifth graders who applied and were interviewed by teachers at the end of their fourth grade year. Between April 18 and April 27 these students raised $1008.68 for leukemia and lymphoma research.
The Dream Team is led by BRE educational assistant Danielle Peddie and fourth grade teacher Kelly Hartman. Hartman remarked, "Between 20 to 25 students are selected to be in the Dream Team during their fifth grade year. The responsibilities include doing daily school announcements, recycling, offering spirit days throughout the year, and completing at least two community fund raisers. This year we collected over 500 pounds of personal hygiene supplies for the Douglas/Elbert Task Force and raised over $1,000 for The Leukemia and Lymphoma Society. I'm so proud of this group of kids!"