BRE students race to the Olympics!
October 1, 2012
/
/
Comments Off

on BRE students race to the Olympics!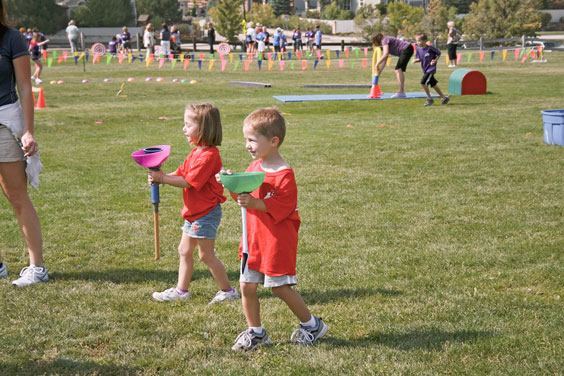 These super cute kindergarten twins take on the torch relay during the BRE Amazing Race on Friday, September 21.
Article and photo by Elean Gersack
With the excitement of the 2012 London Olympic Games still fresh in their young minds, students at Buffalo Ridge Elementary were eager to participate in an Olympic Games all their own during the second annual BRE Amazing Race … to the Olympics!
The event, which took place on Friday, September 21, was the school's major fundraiser for the year. As such, it encouraged students to raise funds to support the school while trying hard, showing good spirit, and having lots of fun during this special event.
Each class represented a different country and the festivities began with a traditional running of the torch. Events included a 30 yard dash, long jump, archery, pentathlon, and shot put, just to name a few.
In the end, the school earned funds to help supplement educational needs and the students enjoyed a mini version of the Games that provided much inspiration during the past few months.
"It was wonderful to see the excitement and pride of the students as each class represented their assigned countries. Although there was plenty of competition, the sportsmanship impressed me the most," said Jen Krumenauer, BRE Amazing Race chairperson.