Bringing company success home
November 1, 2013
/
/
Comments Off

on Bringing company success home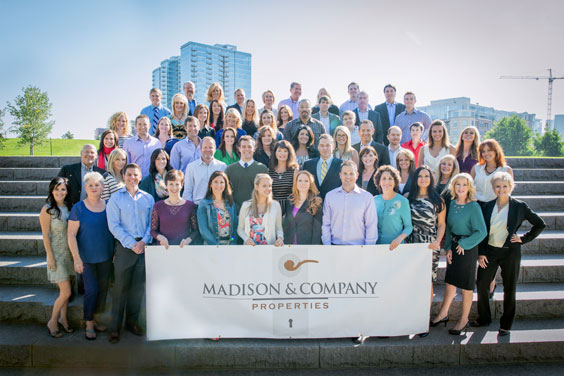 The 60-member team at Madison & Company, a Denver area real estate firm founded in 2008 by Castle Pines resident Todd Narlinger, celebrated its fifth anniversary this year.
By Lisa Crockett; photo courtesy of Madison & Company
Madison & Company Properties, a Denver real estate firm owned and operated by Castle Pines resident Todd Narlinger, is celebrating its fifth anniversary. Founded in August 2008 by Narlinger, the company now operates from four metro Denver offices. It is staffed by more than 60 top producing brokers who are on pace to surpass $200 million in real estate sales for 2013.
Narlinger has been in real estate since 1995, when he was a new graduate from CU Boulder. In 2007, he began planning to start his own company and in 2008, despite a difficult business climate, he launched Madison & Company, named for a house he sold to a friend and business associate on Madison Street in Denver.
"I love that we are a local company and that we really understand the local market," said Narlinger. 'This really is a 'boutique' firm. We can offer personal service – real estate isn't just an investment, it's really emotional and we understand that. Our company has developed an outstanding culture that I am really proud of."
Madison & Company handles commercial real estate, investment real estate, and residential real estate – including the luxury market. And with his extensive knowledge of all the choices available to him, Narlinger said that he, his wife, Kristen, and his two daughters Alexa and Emma, are happy to call Castle Pines home.
"We love it here – the schools, the community, we just love the small and intimate feel of the neighborhoods," said Narlinger. "We'll never move."
The Narlingers are heavily involved in Castle Pines schools, where their daughters are enrolled. Kristen has been involved with Timber Trail Elementary's PTO since older daughter Alexa was in kindergarten, and Madison & Company has sponsored several fundraising events, including the annual Daddy Daughter Dance and a fundraising auction Kristen chaired.
Soon, Narlinger plans to carry that dedication to community into his work life. "In the next six to twelve months, we plan to have an office in the Castle Pines area," said Narlinger. "It's been exciting all the things we've been able to do in the last five years, and we are looking forward to being able to do those things here."
To learn more about Madison & Company Properties, visit www.MadisonProps.com.