Brownie Troop visits elderly – A good will lesson
January 1, 2010
/
/
Comments Off

on Brownie Troop visits elderly – A good will lesson

Brownies Molly and Rachel get a hug from Valley House resident, Betsy, during Troop 881's outreach visit.
Article and photos by Elean Gersack
On Monday, November 23, Buffalo Ridge Elementary School Brownie Troop 881 made a special visit to Valley House Elderly Assisted Living in Castle Rock. Two weeks prior, the third graders met with troop leaders, Lara Lane and Cammy Eng, to plan the outreach project. The girls selected games to play (Crazy 8's, Bingo, and Pictionary), created a snack list, and made special gifts to take along — gift-wrapped present pins to add cheer to the elderly residents' holiday attire.
Once the troop arrived at Valley House, residents boasting ear-to-ear smiles meandered into the living room to meet the girls. The girls politely offered snacks and helped affix the homemade gift pins to sweaters and shirts. It quickly became clear that too many that games were planned – the residents merely enjoyed chatting and playing a round of Bingo while enjoying pre-dinner snacks. The girls enjoyed the outreach as much as those visited. "It makes them happy being visited by other people. It made me happy, too," said Saylor D., Troop 881 Brownie.
According to Eng, service projects are integral to the Girl Scout creed. "The visit was a great opportunity for the girls to slow down and realize what is really important – especially with the holidays upon us," said Lane.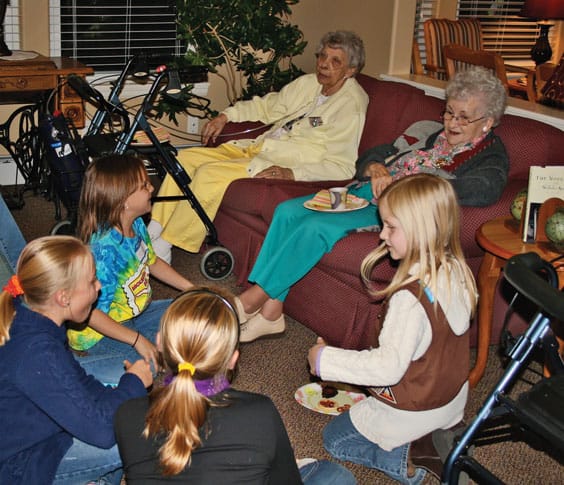 Buffalo Ridge Elementary Brownie Troop 881 visits with residents at Valley House in Castle Rock in November.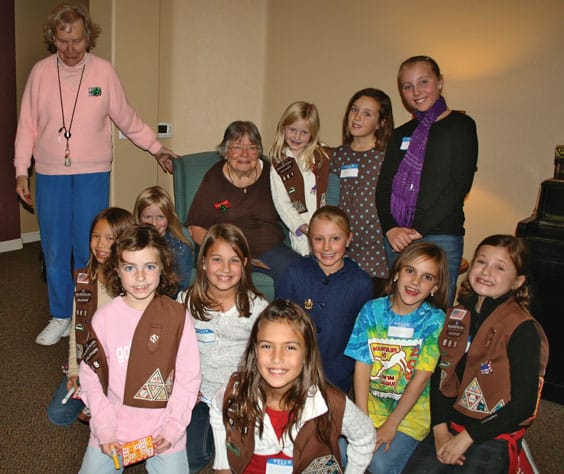 Troop 881 Brownies play a round of Bingo with residents from Valley House Elderly Assisted Living in Castle Rock.