Buffalo Book Blasters go undefeated!
May 1, 2013
/
/
Comments Off

on Buffalo Book Blasters go undefeated!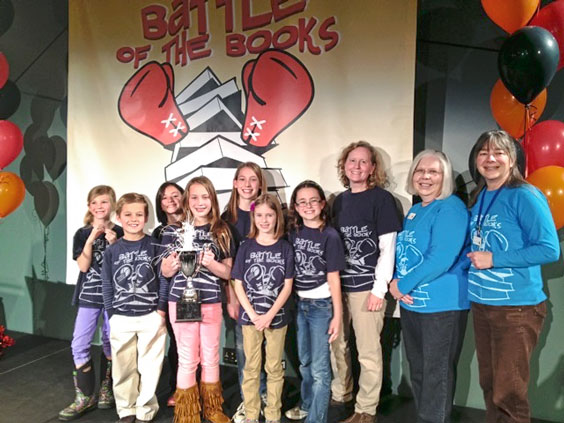 Pictured from left to right: Grace D., Matthew T., Erica P., Juliette L., Libby O., Sydney J., Avarie P., Laurie Jacobs (Team Leader), Patricia Dies (Castle Rock Library), and Janet Nelson (Castle Rock Library).
By Elean Gersack; photo courtesy of Laurie Jacobs
The third and fourth grade Battle of the Books team from Buffalo Ridge Elementary, aka the Buffalo Book Blasters, completed their very first attempt at the "battle" with an undefeated record.
The Buffalo Book Blasters made it though the initial battle rounds in February with wins against Castle Rock, Flagstone, Renaissance and Soaring Hawk elementary schools. After getting through the quarter and semi rounds, the team ultimately won the biggest battles of all: the 2013 Philip S. Miller Branch Finals Championship and the 2013 District Finals Championship.
"This team was so incredibly dedicated! They learned the life skills of teamwork, leadership, and read good literature," shared Janet Nelson, Battle of the Books coordinator for Douglas County Libraries. "We have never had an undefeated team before! We hope they will come back next year to defend their title!" she added.
Battle of the Books is a reading competition program for third through sixth graders. For information, contact Janet Nelson at Douglas County Libraries jnelson@dclibraries.org.