Buffalo Ridge Elementary Celebration Assembly
February 1, 2019
/
/
Comments Off

on Buffalo Ridge Elementary Celebration Assembly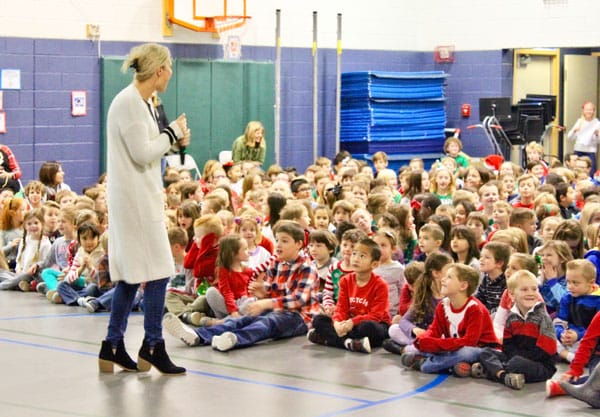 Assistant Principal Jen Murdock welcomed students to the celebration assembly on December 20.
By Celeste McNeil; photos courtesy of Tim Ryckman
In December, Buffalo Ridge Elementary school (BRE) held the second Celebration Assembly of the 2018-2019 school year. The celebration assemblies are an opportunity for the entire school to come together and recognize the amazing projects of the various student clubs, including Health Team 4, Green Team and yearbook club. Health Team 4 is student led but supported by Ronda Gutierrez (PE) and Shantel Montgomery (fourth-grade teacher) and open to fourth-grade students. They focus on creating awareness of physical, emotional and social health of all students at BRE.
Moving with Miller is a program sponsored by Health Team 4 to encourage students to stay active by taking photos with their flat Von Miller cut-out while participating in physical activity. The Green Team focuses on sustainability and conservation, run by third-, fourth- and fifth-grade students and supported by Jody Robinson (learning commons) and Jen Romero (moderate needs). The yearbook club is supported by Tim Ryckman (art) and consists of fourth- and fifth-grade students.
"Shoutouts" are an integral aspect of BRE celebration assemblies and a student favorite. BRE staff continually watches for individual students displaying greatness in all forms, including above-and-beyond helpfulness, kindness, perseverance or academic triumphs. When students are caught exhibiting exemplary behaviors, they are recognized during the school-wide morning announcements. From these announcements, 15 students were randomly drawn during the celebration assembly and individually brought onto the stage by a member of the Dream Team (student council). The selected students then got a shoutout which was followed by a brief description of why each student was selected.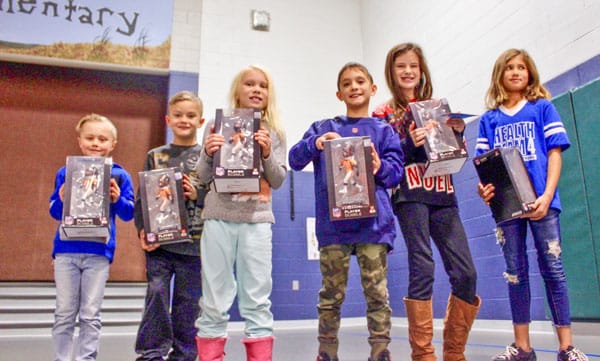 Moving with Miller challenge winners were presented with a Von Miller bobble head from Health Team 4.
The December assembly also featured a performance by the kindergarten students. The kindergarteners sang songs they learned as part of their "Holidays Around the World" unit. The assembly ended with a school-wide dance, led by Health Team 4. It was a fun way to wrap up the first semester. Staff and students alike, look forward to two more celebration assemblies before this school year comes to an end.