Caring for loved ones in an emergency
February 1, 2010
/
/
Comments Off

on Caring for loved ones in an emergency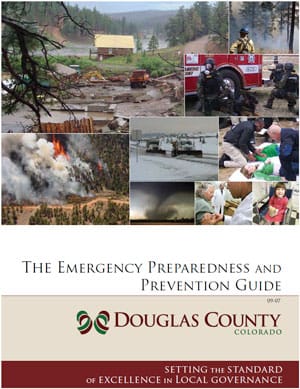 Information provided by the Douglas County Sheriff's Office
Even though Douglas County is a very mobile community, we do have a certain special population of citizens with disabilities and mobility problems. There are several programs and plans available to this special population that can help them prepare for an emergency or disaster.
Special Needs Registry:
This is a database containing information about individuals in Douglas County with special needs who may require assistance in the event of an evacuation.
The information may also be used to assist emergency personnel and volunteers in providing assistance. Participation in the registry is voluntary and does not guarantee priority in an evacuation.
To sign up for the registry, contact Douglas County Emergency Management at 303-660-7589 or visit the website at www.dcsheriff.net and link to Special Needs Registry.
Personal Emergency Plan:
Make a kit that can last at least 72 hours with the basics such as food, water and life sustaining items. Include medications and medical supplies. Create a personal support network and develop a family communications plan. Stay informed as to what is going on in your area and prepare to adapt the information to your own personal situation.
TRIAD File of Life:
These are plastic pouches, one a refrigerator magnet and a smaller one to be carried in a wallet or purse, containing a card to be filled out with medical and emergency information.
There is also a FILE OF LIFE sticker for the front door of the residence. If medical personnel do respond to an emergency at your residence, they will see that sticker and know that there is more medical information on the refrigerator.
If you would like a File of Life kit, please contact the Douglas County Human Services Department at 303-660-7519.
For more information about how to prepare for an emergency or to learn what types of disasters are likely to occur in Douglas County, visit the Sheriff's Office website at www.dcsheriff.net and link on the Emergency Management site to view The Emergency Preparedness and Prevention Guide.