Castle Pines dermatologist now practicing in Castle Rock
August 1, 2012
/
/
Comments Off

on Castle Pines dermatologist now practicing in Castle Rock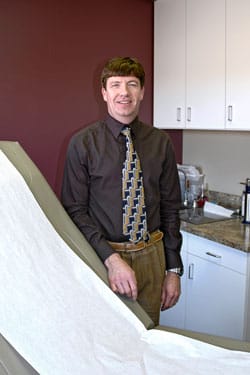 Dr. Brad Draper, a dermatologist who lives in Castle Pines, is now practicing in Castle Rock. Dr. Draper is fellowship trained in Mohs surgery, a technique which offers favorable outcomes for patients.


Article and photo by Lisa Crockett
Dr. Brad Draper, a dermatologist who lives in Castle Pines, is now practicing at Alta Vista Dermatology in Castle Rock. Draper is the dermatologist on site at the new location at 755 Perry Street, Suite 500, which opened in June. The Castle Rock office is a second location for Draper's existing practice in Highlands Ranch, where he practices with fellow dermatologist Dr. Sarolta Szabo and Nurse Practitioner Peggy Vernon.
"In Colorado, with the high altitude and lots of sunshine, skin cancer is practically an epidemic," said Draper. "I always recommend high SPF sunscreen and protective clothing and hats."
For patients who need surgical treatment, Draper is not only a general dermatologist, but a fellowship-trained Mohs surgeon as well. Named after Dr. Frederick Mohs who pioneered the technique in the 1930s, Mohs surgery is an outpatient procedure that allows for on-site pathology. The technique allows the surgeon to remove cancer more completely with less loss of healthy tissue than other kinds of skin cancer surgeries.
"I do Mohs surgery because it offers better functional and aesthetic outcomes for patients," said Draper. "It also offers a higher cure rate than other treatments."
After his graduation from medical school at St. Louis University, Draper completed both a dermatology residency and a PhD program at Vanderbilt. Following that, he trained for a full year in Montana learning how to perform the Mohs procedure.
Alta Vista Dermatology offers general dermatology, cosmetic dermatology, and evaluation for surgical dermatology treatment. For more information, visit www.AltaVistaDerm.com.