Castle Pines Library bids stellar staffer adieu
July 1, 2012
/
/
Comments Off

on Castle Pines Library bids stellar staffer adieu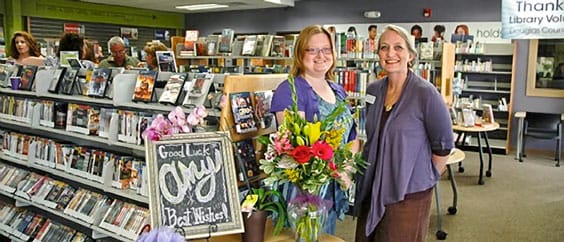 Amy Long (left) says farewell to Aspen Walker, manager of the Castle Pines Library. Long is the new manager at the Parker Library. You will be missed Amy!
Article and photos by Lisa Crockett
A founding member of the Castle Pines Library staff has taken a new job managing the Parker Library, but she said she's learned lessons here that will serve her well in her new position. Amy Long, who has been the department head for circulation, youth services and adult services at the Castle Pines Library since its opening in 2009, began her new job last month.
"The experiences I have had here have taught me a unique way of looking at a team," said Long. "I see us here at the library as a part of the larger community and that we can do great things when we come together. I'll take that lesson with me wherever I go."
Long has been an important liaison to a community group founded last year to raise money for operating costs at the library. To date, the "Let's Keep a Good Thing Going" campaign has raised more than $60,000.
"It's been amazing to see how hard the community worked to get us here, and then to keep us open," said Long. "The school fundraisers, the 'dine out' nights, and all the other things the community has done has made us feel welcome and supported. I really want to say thank you for that."
Long has worked for Douglas County Libraries since 2004, where she began as a library clerk at the Highlands Ranch library.
"Amy is one of the most innovative librarians I know," said Aspen Walker, manager of the Castle Pines Library. "I know she's destined for great things and I can't wait to see what she does in Parker."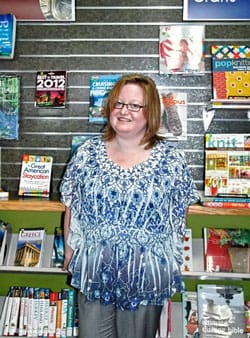 Amy Long will now manage the Parker Library. Long was an original staff
member at the Castle Pines Library when it opened in 2009.