Castle Pines North: Get Out and Vote!
October 1, 2006
/
/
Comments Off

on Castle Pines North: Get Out and Vote!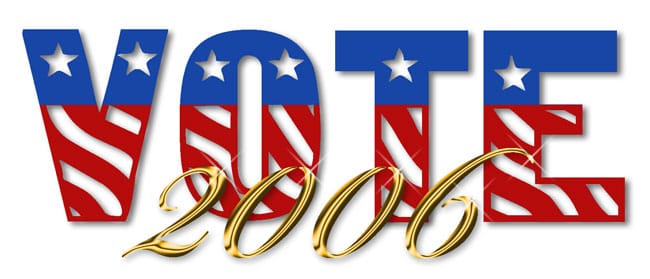 by Lisa Crockett
It is tradition. The first Tuesday in November is Election Day, and this year is no exception. However, Castle Pines North voters will have opportunities to make their voices heard in some not-so-traditional ways this election.
In the past, voters have cast ballots at specific polling places. This year, voters will have unprecedented flexibility with the ability to vote at any of 29 "Vote Centers" in the county. Voters simply present a valid ID at any of the Vote Centers, and an electronic poll book keeps track of voters in real time, eliminating the possibility of double voting. Yellow signature cards, which will be mailed to all active, non-absentee voters prior to the election, will allow for quicker processing of votes.
New voting equipment will also streamline the voting process. Though the new ballot is electronic, voters will have the option of printing a hard copy of choices to review before casting final ballots.
Voters who wish to vote in the general election must be registered by October 9, with early voting beginning on October 23 and continuing until November 3. The general election will be held on Tuesday, November 7, from 7 a.m. until 7 p.m.
Voting (including early voting) will take place at the Castle Pines North Metro District, 7404 Yorkshire Drive. For a list of the other 28 Vote Centers, as well as other helpful information on voting, visit www.douglasvotes.com.

Key Issues on the November Ballot

by Lisa Crockett
The following issues are proposed for the November ballot, though many of them are still in various stages of the approval process. As of press time, these were the issues slated to be set before voters in November; ballot issues are subject to change.
Amendment 38, "Petitions": Expands citizens' ability to propose and challenge laws by altering procedures by which measures are placed on the ballot.
Amendment 39, "School District Spending Requirements": Quite similar to Referendum J, which is also proposed for this November's ballot. Both establish requirements that school districts spend at least 65 percent of its operating budgets on specific items (mostly items directly related to classroom instruction.) Under the requirements of Amendment 39, 166 school districts would have fallen short of the requirement for the 2004-2005 school year. Under Referendum J, only three districts would have fallen short for the same school year.
Amendment 40, "Term Limits for Supreme Court and Court of Appeals Judges": Limits terms for both supreme court and court of appeals judges.
Amendment 41, "Standards of Conduct in Government": Dictates strict limits on gifts government officials are allowed to receive; governs lobbying practices and creates a new government ethics commission.
Amendment 42, "Colorado Minimum Wage": Would raise the minimum wage to $6.85 per hour; adjusts annually for inflation; increases minimum wage for tip-earning jobs to $3.83 per hour.
Amendment 43, "Marriage": Defines marriage in Colorado as a union between one man and one woman.
Amendment 44, "Marijuana Possession": Legalizes possession of up to one ounce of marijuana for adults who are at least 21 years old. Addresses possession only; enforcement of other laws dealing with marijuana would remain unchanged.
Referendum E, "Property Tax Reduction for Disabled Veterans": Reduces property tax for qualified disabled veterans.
Referendum F, "Recall Deadlines": Allows for greater flexibility in the recall election process; changes requirements for when recall elections are held.
Referendum G, "Obsolete Constitutional Provisions": Removes obsolete laws, provisions, and dates from the constitution, as well as specific gender references in one section of the constitution.
Referendum H, "Limiting State Business Tax Deduction": Increases state income taxes owed for some businesses that deduct wages or compensation paid to unauthorized aliens.
Referendum I, "Domestic Partnerships": Creates a new legal relationship for same-sex couples, granting legal protection and rights; defines criteria for domestic partnerships; specifies that domestic partnerships are not marriage and do not change public policy regarding marriage.
Referendum J, "School District Spending Requirements": See summary for Amendment 39.
Referendum K, "Immigration Lawsuit Against Federal Government": Requires the State of Colorado to sue the federal government to demand enforcement of existing federal immigration laws.
For an in-depth analysis and up-to-the-minute information, visit www.leg.state.co.us, then click on "Ballot Issues."
2006 Election Primary Results
The official results of the 2006 primary were announced August 8, 2006. For additional information, please visit www.douglasvotes.com.
Congressional Representative:
Tom Tancredo (R)
Bill Winter (D)
Governor:
Bob Beauprez (R)
Bill Ritter, Jr.(D)
Secretary of State:
Mike Coffman (R)
Ken Gordon (D)
State Treasurer:
Mark Hillman (R)
Cary Kennedy (D)
Attorney General:
John Suthers (R)
Fern O'Brien (D)
Regent, University of Colorado – At Large:
Brian Davidson (R)
Stephen C. Ludwig (D)
State Senate – District 30:
Ted Harvey (R)
Shelly Tokerud (D)
State Representative – District 45:
Victor Mitchell (R)
Linda Constantine (D)
Assessor:
Terri Cox (R)
Maritza Carrera (D)
Clerk & Recorder:
Jack Arrowsmith (R)
Barbara E. Horan (D)
Commissioner District #1:
Jack Hilbert (R)
Jerri Hill (D)
Coroner:
Wesley A. Riber (R)
Karen G. Yankus (D)
Sheriff:
David A. Weaver (R)
Laura Harper O'Donnell (D)
Surveyor:
Charles R. Ahlbrecht (R)
Treasurer:
Sharon K. Jones (R)
Kimberly Steenhoek (D)