Black Bear Sighting Behind DCS Montessori School
September 1, 2006
/
/
Comments Off

on Black Bear Sighting Behind DCS Montessori School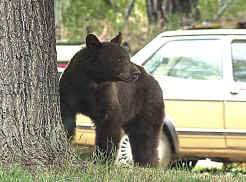 By Celine Hundt
Donna Collison, a resident of Parker who was dropping off her grandson at the DCS Montessori School, was astounded to encounter a black bear as she walked up the path behind the school. She saw the bear on the main road about 25 yards from the dirt parking lot close to the Charter Oaks neighborhood. The bear quickly scampered into the scrubs in the open space and did not seem aggressive or threatening. The bear was described as "not a cub." DCS Montessori School issued a warning to parents who park behind the school to exercise caution.
Another sighting of presumably the same bear was reported by a Noble Ridge resident on August 30 in the open space between Shoreham Circle and Lagae Road, and yet another by the O'Conner family in HOA1 in July. Another report stated that a bear, accompanied by two cubs, was spotted also in the HOA1 area. The Colorado Division of Wildlife has been advised of the sightings. Black bear activity should start to diminish as the cold weather sets in and the bears prepare for hibernation.
The Castle Pines North Master Association sponsored an educational wildlife seminar in July at the Community Center and it is working closely with the Colorado Division of Wildlife regarding wildlife concerns in the community. Residents are encouraged to report any sightings of bears or mountain lions to safety@cpnhoa.org and to call the Colorado Division of Wildlife at 303-291-7227. After normal business hours, call the Colorado State Patrol at 303-239-4501.