CPN Residents Voice Concerns Regarding
September 1, 2006
/
/
Comments Off

on CPN Residents Voice Concerns Regarding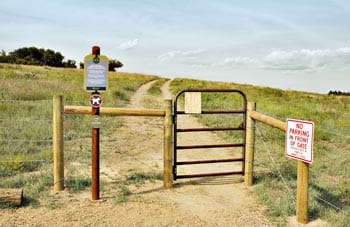 New "Exclusive" Highlands Ranch Trail System


by Terri Wiebold
More than 50 Castle Pines North (CPN) residents attended the Castle Pines North Metro District Board meeting on August 21, along with the news crew from Channel 7, to hear comments from Douglas County Parks and Trails Planner, Randy Burkhardt, regarding the neighboring Highlands Ranch trail system.
According to Burkhardt, the Highlands Ranch Community Association (HRCA) owns the land on the east side of Monarch Boulevard between the Castle Pines North boundaries to south of McArthur Ranch Road. The land to the west side is still owned by Shea Homes but will eventually be deeded to the HRCA. The land is not owned by Douglas County or the Highlands Ranch Metro District.
CPN residents have been denied access into the new Wildcat Mountain Trail at the entrance just north of Daniel's Gate. Hikers have also been stopped on the trail and asked to show proof of residency in Highlands Ranch by way of an official ID card. So many, in fact, that an electronic forum (BLOG) has been created by concerned local residents to keep the public informed of the situation. The hope is that, through community awareness, education and action, changes can be made to the current policy regarding the "exclusivity" of the trail. To view the discussions, go to www.cotrailmix.blogspot.com.
Douglas County is researching the legality of the existing agreement. "We are researching the situation to see if they have exclusive use," said Ron Benson, Director of Parks and Trails for Douglas County.
Metro District Manager, James McGrady, Parks and Open Space Director, Charlie Fagan, and Master Association President, Maureen Shul will work with the HRCA to see if a compromise about access on the trail can be reached. "The first thing most people want to do when they feel passionately about the unparalleled beauty of open spaces is to share it with others. That is why this situation is particularly disappointing to so many," said Shul.
In addition, Douglas County is currently planning a new trail that would extend from Coyote Ridge Park north behind the Serena neighborhood to Rocky Heights Middle School. Look for further details in the October issue of The Connection.