"A Taste of Timber Trail" Weathers the Weather
October 1, 2006
/
/
Comments Off

on "A Taste of Timber Trail" Weathers the Weather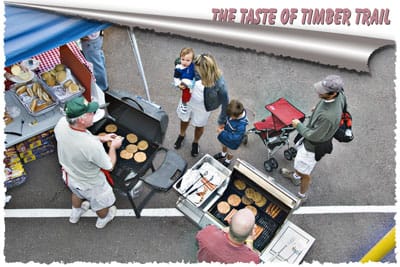 by Celine Hundt
When it rains, it pours. On the day that "A Taste of Timber Trail" was scheduled to take place, the heavens opened up and the difficult decision to postpone the event by a week was made. The following Saturday, the skies still looked threatening, but the brave organizers of the event ploughed ahead. This tenacity was rewarded with an event that was attended by more than 600 people.
In spite of a reschedule and less than perfect weather, the event also exceeded revenue projections. Because of the cooler weather, the "dunk tank" proved more challenging than prior years. Science teacher Brian Hall was forced to conduct his own experiment to determine whether the human body can survive in frigid water for 45 minutes. Apparently the experiment was a success and Hall emerged to teach another day!
If Mrs. Phillips, the school's principal, ever decides to quit her day job, there may be a career as a restaurateur awaiting her. Her sausage stand was a huge draw and customers were disappointed that this was just a one-time opportunity to sample the unforgettable sandwich.
The school would like to thank everyone who helped with the event. Special thanks go to Castle Pines Orthodontics and Salon on the Parkway for their sponsorships. Santiago's and Little Italy were also very generous in their contributions of wonderful food. "A Taste of Timber Trail" cookbooks, which were sold at the event, will also be available for purchase for $10 at the school office.