Castle Pines Village resident relishes in cultural treats
October 1, 2014
/
/
Comments Off

on Castle Pines Village resident relishes in cultural treats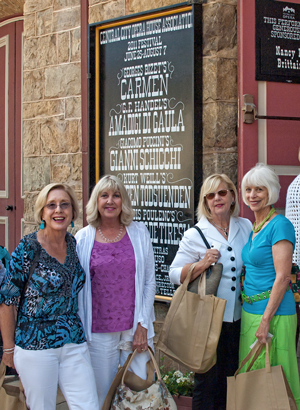 L'Esprit de Noël, translation the "Spirit of Christmas," home tour is in its 38th year and will take place in the Glenmoor Country Club for 2014. The location of this event changes each year and has taken place in Castle Pines Village (CPV) in the past. The event will feature five homes decorated for the holidays by professional florists and table designers as well as a Christmas boutique.
By Kathy Fallert; photo courtesy of Liz Clarke
CPV resident Liz Clarke thoroughly enjoys a day out at the Central City Opera with friends (pictured from left to right) Liz Clarke (CPV), Geneva Clymor, Kay West (CPV), and Grace Gehret (CPV).
Twenty-year Castle Pines Village (CPV) resident Elizabeth Clarke is very interested in the arts and culture. For the past 15 years, Clarke, originally from New Zealand, has volunteered her time to the Central City Opera Guild as well as their upcoming fundraiser L'Esprit de Noël Home Tour slated this year for November 14-15 from 10 a.m. to 4 p.m.
Says Clarke, "It's a delight! Visitors get to see the beautiful homes for themselves and also get wonderful ideas about how to decorate their own homes. The event is very well attended!" The purpose of the event is to raise money for the historic Central City Opera House which was built in 1878 by Welsh and Cornish gold miners to enhance the town's reputation as "the richest square mile on earth."
Unfortunately, the Opera House's popularity was short lived in the late 1800s, and the building soon fell into disrepair. A volunteer-driven effort spearheaded by Ida Kruse McFarlane, Edna Chappell, and Anne Evans – daughter of Colorado Governor John Evans, led to the restoration of the Opera House in 1932 amidst the Great Depression. The following summer, the newly-restored Opera House launched an annual tradition of summer festivals in Central City that continues today.
Central City Opera's national summer festival brings visitors from all over the country and from out of the country to experience intimate opera in its 550 seat venue. Clarke always looks forward to attending the Central City Opera summer festival which runs in July and August each year. Clarke commented, "A number of people down here [Castle Pines Village]are supporters. I love taking my friends and neighbors to the Opera House. When the show is about to begin, a man runs up and down the street ringing a bell. It's a real treat in the Denver Metropolitan area!"
All proceeds of L'Esprit de Noël support the programs of Central City Opera, including opera productions, young artist training, educational outreach and historic preservation. Clarke remarked, "It's important for a big city like Denver to have a thriving cultural organization. The proceeds of this fundraiser help the Opera House as well as college graduates with degrees in opera. These young people have voices like angels! A number of Central City's Victorian houses are owned and maintained by the Opera Company to house the singers through the season."
Tickets for the L'Esprit de Noël will be available at the door for $25 or at King Soopers beginning October 1 for $23. For more information about the event, visit www.lesprithometour.com or for more information about the Central City Opera House, visit www.centralcityopera.org.