Fresh Harvest Food Bank serves growing need with heart
October 1, 2014
/
/
Comments Off

on Fresh Harvest Food Bank serves growing need with heart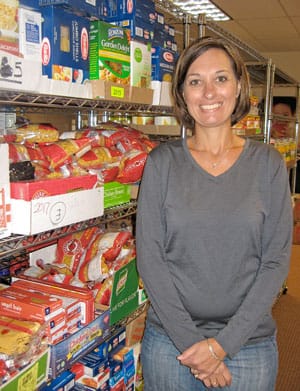 Michelle Tripp, director of community relations at Fresh Harvest Food Bank in Lone Tree.
Article and photo by Lisa Nicklanovich
Any given afternoon, the Fresh Harvest Food Bank (FHFB) in Lone Tree is buzzing with the energy and enthusiasm of volunteers who wouldn't want to be anywhere else. Much more than a food bank, FHFB provided school supply kits to more than 600 students (in partnership with a handful of Douglas County organizations) and now is focused on the upcoming holiday season.
Surrey Ridge resident Lesley Gibson said, "Families in our own neighborhood and schools are in need of extra help to get by. Giving our time to Fresh Harvest by bagging groceries, donating and distributing food, and preparing school supplies has helped us to realize that 'life happens' to everyone, regardless of their demographics."
Michelle Tripp, director of community relations at FHFB said there are many Castle Pines residents who volunteer, as well as schools in 80108 that have sponsored families, collected food, and even donated coupons for FHFB. Approximately 150 families per month pick up bags of groceries and fresh produce and dairy put together by volunteers, all based on the families' preferences and needs.
Tripp said, "With the support of The WishList Network, a private operating foundation based in Lone Tree, we have expanded to provide nutritional support to families and students throughout the Douglas County School District. We provide food for about 600 people, 300 of whom are kids. We're doing a pretty good job."
Cory Bohman uses her extreme couponing skills at FHFB to get the maximum amount of food possible with every donated dollar. Bohman, who was laid off from a corporate job a few years ago said, "I realized since I wasn't bringing money in, I could help my family by spending less." Recently, a man in the grocery line behind Bohman was so impressed with how much she was getting for the money that he made a contribution to FHFB on the spot. Bohman said, "It's not a hand out, it's a hand up."
Schools are encouraged to host food drives from November 1-14 for Thanksgiving fixings; event kits are available on the FHFB website. Tripp said FHFB will be providing meals for four other food pantries in addition to their 150 families, hopefully reaching about 1,000 people.
Program director Jen Zander said, "The Castle Pines community has always supported our efforts to provide food for hungry families in Douglas County. Our doors are always open to welcome new volunteers who share our heart for our neighbors in need." Tripp added, "We welcome young children with a supervising adult for bag packing nights. There's a three-year-old girl who comes in with her piggy bank and sometimes a book to donate."
Tripp said, "We have volunteers from all over Douglas County, but the Castle Pines community and Buffalo Ridge Elementary specifically, have overwhelmingly supported our Holiday Wishes program by donating holiday gifts for Fresh Harvest Food Bank families and kids to ensure a happy holiday season. We will be launching our 2014 giving campaign, and need many more donors and volunteers to help."
Visit www.freshharvestfoodbank.org to receive information about assistance or to learn more about the vast array of volunteer opportunities as well as corporate sponsorships.