Castle Rock ranks high on best places to live in the U.S.
November 1, 2014
/
/
Comments Off

on Castle Rock ranks high on best places to live in the U.S.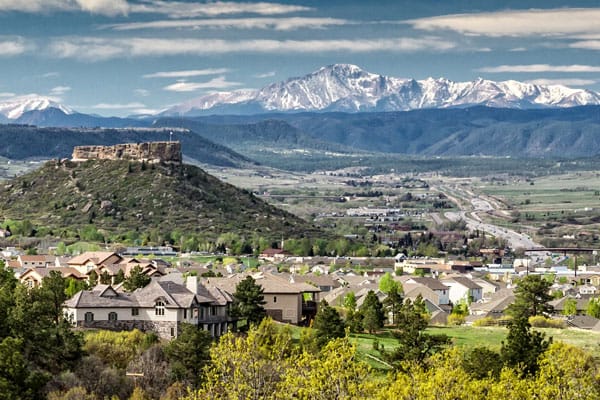 Castle Rock was recently named the fourth best place to live in the United States by Money Magazine. The small town feel coupled with a stimulated economy continues to attract new businesses and residents. Above is the iconic "Castle Rock."

By Amy Shanahan; photo courtesy of Magic Hour Images, LLC
In September, Money Magazine published its annual list of the top 50 best places to live in the United States, and the city of Castle Rock was ranked number four. Based on 50 different criteria, including economic growth, housing, healthcare, and schools, Castle Rock's ranking confirms what those of us who live here already know – this is just the right blend of small town and vibrant booming community.
Though the population has more than tripled in the past fifteen years, Castle Rock manages to retain its small town roots with quaint shopping and dining areas like downtown Castle Rock and The Village at Castle Pines. Local events like Hot Rods in the Village, the annual Chili Cook Off, the Douglas County Fair and Rodeo, and the annual Starlighting festival bring neighbors together and provide a sense of community that is lacking in many high growth areas.
Residents are drawn to the open space, wonderful trail systems and a sense of true Colorado living that permeates this area. New housing developments are planned with an emphasis on open space and parks, and Castle Rock itself is a popular hike for many residents who enjoy reaching the top of this iconic landmark and taking in views of the surrounding beauty.
The economy of Castle Rock is booming, thanks to a wide range of industries that are represented including retail, technology, manufacturing and government. Local resident Jeff Cox moved his technology company Digital Globe Services' corporate headquarters from Washington D.C. to Castle Rock in October of 2012. "We decided to relocate our offices because of the quality of life our corporate employees would enjoy by living, working and playing in Castle Rock. Additionally, we were excited about the availability of world-class human capital in the marketing technology space and ease of getting to anywhere in the world via DIA," Cox remarked.
Castle Rock's growth is apparent in the number of cranes, trucks and other obvious signs of expansion. Castle Rock Adventist Hospital opened just over a year ago and brought numerous jobs to the area, new mixed-use developments recently broke ground along the I-25 corridor, and a new on-ramp is currently being constructed to ease the traffic congestion.
The Castle Rock Economic Development Council (EDC) is a non-profit organization that provides assistance to companies that are looking to move or expand in Castle Rock. EDC president and CEO Frank Gray is thrilled with the current climate in Castle Rock. "What excites me about Castle Rock is that the business environment and economy are creating the opportunity for Castle Rock citizens to both live and work in a distinctive stand-alone community that has access to so many amenities and yet continues to have a real community connectivity with an authentic historic downtown," Gray stated.
The fine balance between small town feel and thriving economy is sure to continue to attract more residents and businesses to this wonderful community we call home. To learn more about Castle Rock and future projects, please visit www.CastleRockEDC.com, or www.crgov.com. To view the Money Magazine rankings of best places to live in the United States, visit www.money.com.
Editor's Note: Although the City of Castle Pines is no longer considered "Castle Rock," the remaining portions of the Castle Pines zip code (80108) are still listed as Castle Rock with the United States Postal Service and were part of the survey.