Colorado Christian University celebrates 100th anniversary
October 1, 2014
/
/
Comments Off

on Colorado Christian University celebrates 100th anniversary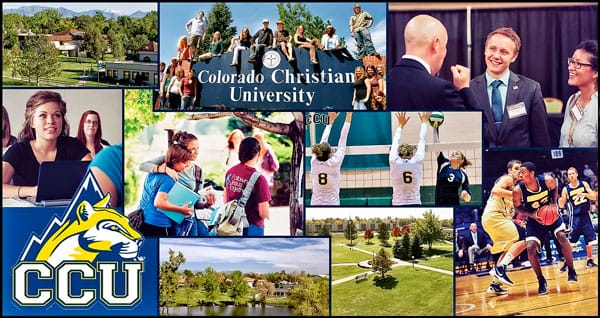 Founded originally as the Denver Bible Institute in 1914, Colorado Christian University (CCU) held classes in 1919 in a building located at 20th Street and Glenarm Place in Denver. The university is undergoing a $120 million redevelopment at its main campus in Lakewood and recently dedicated the new academic building Leprino Hall as part of its 100th anniversary celebration. CCU offers associate, undergraduate, and graduate degree programs and is Colorado's only Christian university.

By Elizabeth Wood West; photos courtesy of Colorado Christian University
The 100-year span of time in Colorado's history from 1914 to 2014 covers countless remarkable accomplishments and events. One such exceptional achievement is the century-long success of Colorado's only private Christian university, Colorado Christian University (CCU).
Originally founded in 1914 as the Denver Bible Institute (DBI), the school opened with one teacher and two students meeting in rented store space. DBI moved forward from this humble beginning with its mission to "Teach the Bible as the Word of God and to train young men and women in the things of the Holy Spirit as they are in Jesus Christ, our Lord."
DBI would undergo several name changes as institutional mergers and academic expansions occurred until finally becoming CCU in 1989. Today, CCU has more than 5,300 students (including many students, staff members, and alumni from the Castle Pines community).
Former United States Senator Bill Armstrong became CCU's president in 2006 and soon undertook the enormous task of updating the school's aging Lakewood campus with a $120 million redevelopment project. Armstrong said, "I feel a great sense of destiny about both the university's first century and the opportunity to help educate a new generation of leaders. It is the most significant, energizing, and rewarding work I have ever undertaken."
CCU's vice president and Castle Pines resident Shannon Dreyfuss said, "We just completed the construction of Leprino Hall, a 43,000 square foot academic building with 14 new state-of-the-art classrooms, faculty offices, a large multipurpose room with seating for 200, a 'grab and go' food and beverage outlet, and a spacious public area with a grand fireplace. Our second building, a 300-bed residential apartment building, is already under construction, with a completion date of July 2015."
"Looking to the future, we have developed a master plan for the entire campus including a new student center, several more academic buildings, a chapel, an additional 400-bed residential apartment building, and a new event/athletic center. A pedestrian bridge will cross the lake on campus and link the academic and student life areas of the campus," he said.
CCU offers a wide variety of associate, undergraduate, and graduate degree programs (including online programs) at its Lakewood campus and academic centers in Colorado Springs, Loveland, Northglenn, Grand Junction, and Denver Tech Center. The school also offers men's and women's athletics (basketball, baseball, softball, volleyball, cross country, track, soccer, tennis, and golf) and participates as a Division II member of the NCAA's Rocky Mountain Athletic Conference.
Dreyfuss added, "I believe that CCU is a great choice for a Colorado student in pursuit of a top notch academic education in an intimate university environment. CCU is a national caliber university right here in the Denver area. At CCU, students experience a vibrant Christian community of students, faculty, and staff. After many years of ideas and planning, our redeveloped Lakewood campus will provide facilities to match the academics and community that make CCU unique."
CCU's 100th anniversary celebration began in September and will continue during the next year. The public is invited to attend the 100th Anniversary Chapel on Thursday, October 16 at 10:50 a.m. in the Event Center at the Lakewood campus, located at 8787 W. Alameda Avenue, and the 100th Anniversary Concert on Sunday, October 26 at 6:00 p.m. at the Music Center, located at 9200 W. Ellsworth Avenue.
To RSVP for either event, call 303-963-3333. For general information about CCU, call 303-963-3000 or visit www.ccu.edu.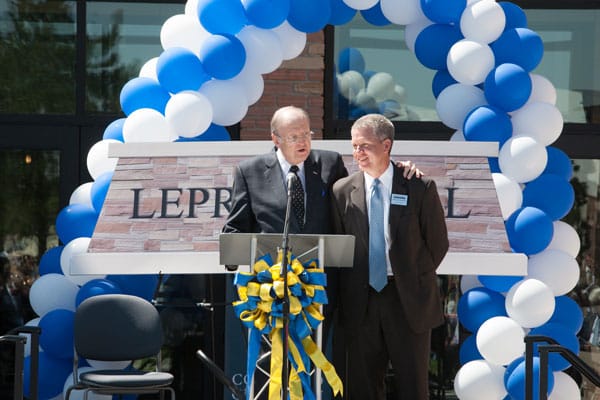 CCU President Bill Armstrong (left) and Vice President Shannon Dreyfuss, a Castle Pines resident (right), dedicated Leprino Hall as part of the school's 100th anniversary celebration.