City completes Community Wildfire Protection Plan
January 1, 2010
/
/
Comments Off

on City completes Community Wildfire Protection Plan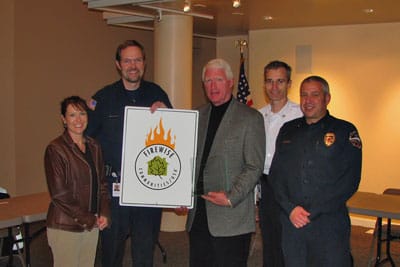 Pictured left to right: City Council member Kim Hoffman, Einar Jensen (SMFR), Don Van Putten (Pine Ridge HOA), SMFRA Chief Mike Dell'Orfano, and SMFR Captain Ted Christopoulos recognize Pines Ridge as a Firewise community and present the City's Community Wildfire Protection Plan to CPN residents.


by Terri Wiebold
A Community Wildfire Protection Plan (CWPP) is a collaborative effort to address wildfire mitigation and response at the grass roots level. While most municipalities in Colorado currently do not have a CWPP, recent legislation may require counties to have one in place.
The South Metro Fire Rescue Authority (SMFR) has developed its own, more broad protection plan to help with prevention and planning efforts in terms of operational needs in the area.
According to SMFR life safety educator Einar Jensen, the City of Castle Pines North was the first city to proactively pursue establishing its own plan tailored specifically to mitigate the potential hazards in the CPN community.
The City's CWPP identified several priorities for management because they pose potential increased threats to the commercial and residential structures in the city. These areas include The Retreat, Forest Park, Buffalo Ridge, and the Metro District open space areas of Romar and Daniel's Park. Pine Ridge would be at similar risk were it not for the fire mitigation efforts already taken in that community.
City Council member Kim Hoffman is the liaison working with SMFR, and Hoffman reports that the city's CWPP will be available for public view on the city's website, www.cpngov.com.