City officials consider increase in road maintenance budget
May 1, 2017
/
/
Comments Off

on City officials consider increase in road maintenance budget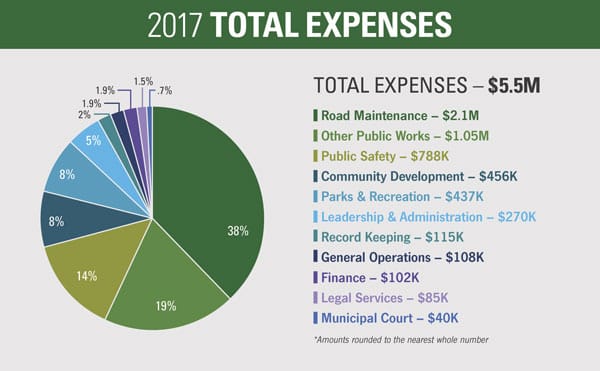 Information and graphic provided by the City of Castle Pines
With summer right around the corner, the City of Castle Pines Public Works Department is gearing up for road maintenance season. This summer, the City will replace concrete panels on Castle Pines Parkway and Monarch Boulevard, and repave several neighborhood streets. Annual maintenance is carefully planned and budgeted through the pavement management program, which is a data-driven evaluation of the condition of city streets. The data helps prioritize projects to efficiently allocate the City's available financial resources and extend the lifespan of roadways.
City Council deems roads to be critical to the city's infrastructure and to residents' quality of life. That is why the City of Castle Pines will spend nearly $2.1 million this year on road repairs, which is roughly 38 percent of the City's entire annual budget. Over the past several years, the City has consistently made substantial investments in the road system. Unfortunately, this strategic spending has not kept pace with the community's needs.
"We know that quality roads are important to Castle Pines residents and the preservation of our property values," explained Mayor Jeffery Huff. "As a result, we have worked to stretch tax payer dollars by investing in the right road improvements at the right time to extend their useful life. The needs are simply out pacing our budget."
Major thoroughfares through the city – Castle Pines Parkway and Monarch Boulevard – require the largest investment. Some sections of these roads are more than 25 years old and the City has been replacing concrete panels to fix failing road segments every year. But time and age now require a complete reconstruction, from the subgrade materials to the top concrete layer. City engineers estimate the cost of reconstructing both roads in their entirety at $35 million.
"These needs extend beyond our annual road maintenance program," shared Mayor Huff. "The city council and I are considering various options to fund the needed improvements to protect the city's infrastructure investment and deliver on the expectations of Castle Pines residents."
City Council will be discussing road conditions, funding and solutions at a series of upcoming Council meetings. For additional information, visit castlepinesgov.com.