Comfort and joy is a need this holiday season
November 1, 2016
/
/
Comments Off

on Comfort and joy is a need this holiday season

"We make a living by what we get, but we make a life by what we give."
– Winston Churchill
By Patte Smith
The holidays seem to bring out the best in most people. Hearts open wide not only for our own families, but extend to other individuals and families, the community and organizations that need help and support. It is important for each of us to imagine how it feels to run out the door of your home with only the clothes on your back to escape domestic abuse or be distraught when you have lost a job and need food and shelter for your children. Feelings of sadness and loss of hope are heightened at this time of year for those in need.



The Crisis Center in Castle Rock is asking the community to support Operation Elf, a program that matches families with sponsors to help provide a Christmas to those who are in need during the holidays.
"These families are struggling both financially and emotionally," noted Heather Orr, special event and grant coordinator for the Douglas County-based Crisis Center. "Although times are tough for our clients, I am fortunate to see firsthand the significant impact that generous donors have on these troubled individuals and families. To see the happy faces of families and children who receive the necessities and gifts that are provided through the Crisis Center's Operation Elf overwhelms me. They are so grateful. I watched a mother pick up gifts for her kiddos – she was so delighted it was heartwarming. I helped another mom load up her car with gifts for herself and her young son. As we finished, she began to cry – it isn't about the gifts, but knowing that a total stranger cares about you and your family," said Orr.
Once a sponsor is matched to a family or individual client, the sponsor is emailed the family or individual's "wish list". The Crisis Center adheres to complete privacy and anonymity with their clients. Sponsors will not receive any contact information for any client. When the gifts have been purchased, sponsors contact the center to schedule drop off of the gifts at the Crisis Center's administrative location.
If interested in participating in Operation Elf, contact Megan O'Brien directly at 303-688-1094 or email her at mobrien@thecrisiscenter.org. She is available to help prospective sponsors to complete the sponsorship form. For more information, please go online to www.thecrisiscenter.org.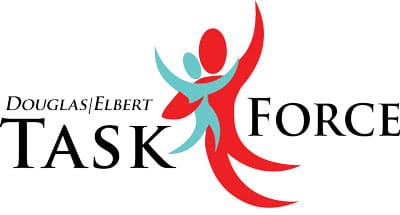 Santa's Sharing is the holiday adopt-a-family program of the Douglas/Elbert Task Force. The program organizes sponsors for current client families who have shown ongoing need and are referred by a case manager for Santa's Sharing. These people have real needs and would like to have a gift or two for their children. "Many of the kids ask for clothes, such as hats, gloves, jackets or pants," noted one of last year's sponsors. "I was humbled by their simple requests."
"There are several different ways for people to participate," explained Nani Lindig, the Santa's Sharing program coordinator. "Sponsors can choose to deliver wrapped gifts directly to the families and enjoy meeting them and their children. Other sponsors prefer providing parents with one or more gift cards so the parents can shop for their children. And, every year a handful of Santa's Sharing volunteers accept new toys and gift cards for families who pick them up from the D/E Task Force when their circumstances do not allow for them to be delivered directly by a sponsor."
Groups and individuals can sponsor one or more families for Santa's Sharing or donate new toys to the Task Force's holiday toy chest. Visit www.detaskforce.org to download a sponsor application or request one via email at SantasDETF@aol.com.