Community garden provides a serene, green environment
June 1, 2011
/
/
Comments Off

on Community garden provides a serene, green environment
Members of the Castle Pines Garden Club, a Castle Pines Village group dedicated to gardening, education and charitable work, breaks ground on its new "Serenity Garden." Located on the banks of Village Lake, the new garden provides a showcase for water-conserving plants and gardening techniques.

By Lisa Crockett with photos provided by Kathy Dennis, Castle Pines Garden Club historian
Given that they are full of live plants, all gardens are green. But a new garden in Castle Pines Village not only provides color and beauty, it utilizes cutting-edge irrigation techniques and water-conserving plants. The Castle Pines Garden Club, a group whose primary mission is education, broke ground on a new Serenity Garden in May. The garden is built on the banks of Village Lake (inside Castle Pines Village), providing a peaceful setting and a gorgeous
view of Devil's Head.
"We are working to provide xeriscape education," said Suzanne Navaro, the civic development chair for the club. Navaro and fellow garden club member Michele Ostrowski worked with Castle Pines Metropolitan District staffer Emily Coll to plan and construct the garden. "Plants in the garden will be labeled and an information sheet will be available at the HOA building so that people can learn about how to save water. It is really important to us that people have that on their mind when they garden."
Mike Croy, vice president of Irrigation Water Technologies of America, donated a new type of underground drip irrigation system that eliminates runoff and open air watering evaporation. Tagawa Gardens in Parker provided a start-up grant for the educational benefits of the garden, and The Gardens at Highlands Ranch donated seeds.
"This new system, called a KISSS system (Capillary Irrigation Sub-Surface System), consists of a fabric covering around the drip system tubing that allows for more even distribution of the water," said Coll. "The garden uses xeric plants (low-water), taken from a list provided by Plant Select, a non-profit partnership of the CSU extension and Denver Botanic Gardens."
Once the garden celebrates its first anniversary, in May 2012, the garden club plans to apply to Plant Select for a partnership of sorts, which will provide education, publicity and guidance from the group's experts.
The gardening club broke ground on the garden in early May and planting has been completed. The garden features a flagstone path leading to a quiet patio where a gentle waterfall can be heard; a picnic table will be added later in June. The garden uses plants that thrive in Colorado's arid climate, mostly native species including hyssop, bee balm, switch grass, pussy toes, cone flower, butterfly weed, Mojave sage and red feathers.
"The garden has large rocks designed for seating. There are five trees on the property and a place to walk your dog," said Navaro, who sees the garden as a valuable contribution to the community. "When you look out across the lake and see Devil's Head, it's really just dreamy. I can see it developing as the plants grow and people make new, and possibly better, contributions."
In addition to the new garden, the garden club is also involved in various charitable endeavors throughout the community, including maintaining the Tweet Kimball Memorial Garden at the Cherokee Ranch and Castle and helping with planning and planting gardens in Castle Pines Village. The group has also made donations to the Women's Crisis Center and the Douglas County Food Bank.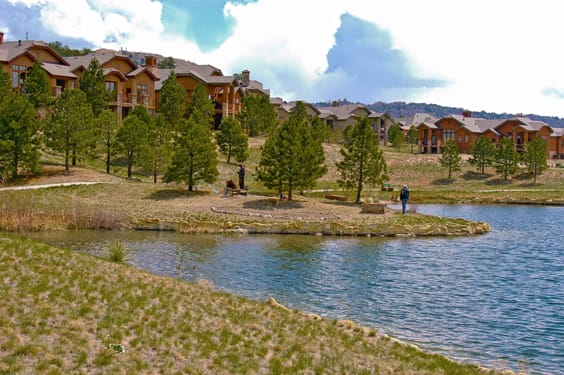 The Castle Pines Garden Club recently broke ground on a new Serenity Garden, built on the banks of Village Lake.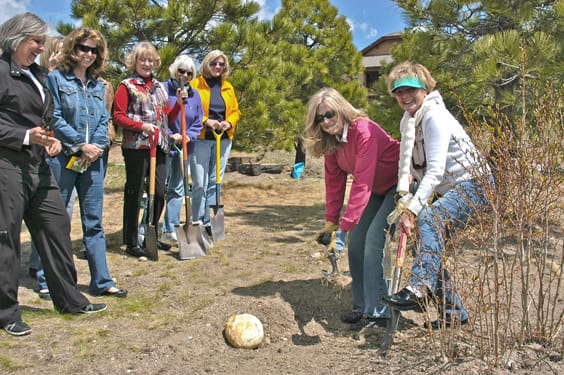 Manning the shovels are club civic development chairs Suzanne Navaro (right) and Michele Ostrowski (left), as they break ground on the new Serenity garden.